What do Call of Duty and Candy Crush have in common? Between the two, they cover just about everything anyone might think of when you say "video games". Somewhere in the gaping chasm between AAA blockbuster first-person shooters and simple match-3 puzzle games lies a host of quirky titles, fuelled by smaller developers such as Bossa Studios. The company believes in experimentation and this has led it to make some incredibly fresh games, and now it is one of the first developers to have a game for the Apple Watch too.
The UK-based game maker is known for zany PC games such as Surgeon Simulator and I Am Bread - a game about bread that yearns to be toasted. Its debut Apple Watch effort, Spy_Watch was launched a few weeks ago, and steers clear of any established genres or gaming tropes. Unlike other games where you are the central character actively doing a things in-game, in Spy_Watch, you're his commanding officer.
"You're not the hero. You are the boss to the hero," explains Imre Jele, Creator-in-Chief and one of the founders of Bossa Studios. "We liked that concept of somewhere there is a hero, in our case a spy, every now and then he sends you a message and it finally made sense. That's how a spy would interact with his boss. He would send text messages and would radio in, quick interactions with their bosses. We thought 'this is perfect' and suddenly everything comes together."
"The limitations of the platform create a specific interaction and those interactions create gameplay, you giving orders to a spy or anyone and then because it's a cool watch that fits the theme really well, and then we can create a story around it," he adds.
Even if you miss a few of these interactions, the spy will try and tackle the problems on his own (albeit less effectively) so you don't have to worry about losing the game because you got into a long meeting. It's a fresh take on how to make a game that stands out, which is something Bossa has a long history of doing.
Bossa's first game - Monstermind - was launched on Facebook, and this debut effort won a Bafta award in 2011. Today though, the company's focus has shifted to a variety of platforms - from PC, to mobile, to VR devices like the Oculus Rift, to wearables like the Apple Watch - a result of the changing audience.
"You have to adapt around the market, when we established Bossa it seemed that Facebook is growing in size, not only in size but the type of audience is changing," says Jele. "And we felt that audiences will grow up so to speak and will like to play more complicated games beyond just gifting sheep to each other. We were right, the audience did grow up but at the same time they left Facebook and gaming shifted to tablets and phones so the original premise was only half true. At that point we realised that we have to move on. We have to be on new platforms where our audience lies."
We asked Jele why there wasn't a version of the game for Android Wear, which has been around for even longer. Diplomatically avoiding mentioning the fact that Android smartwatches are still few in number, he instead says that the company's hands are full with Apple right now, but that he isn't ruling things out. It's another example of how Apple tends to do a better job of getting developer support than the competition, even before it has an actual product in the market.
Looking at its published titles, experimentation seems to be the name of the game for Bossa. Jele tells us you need to have an environment conducive to allow "people to come up with crazy ideas." This, he tells us, allows Bossa to address market realities by creating games that are suitably differentiated from the competition.
"We do regular game jams that people freely work on whatever they want, there's a lot of opportunities," says Jele. "This is needed because we are living in a market where either you have to be superbly big to be able to compete with the big guys, that you have to be able to throw millions if not hundreds of millions behind the marketing of a game."
"Or you have to be really clever and fast, and we chose to be the latter," he adds. "We realise that there is an opportunity for these kind crazy, creative, exciting games. Rather than trying to match Clash of Clans or Call of Duty." He cities I Am Bread (pictured below) as being a prime example of this.
"I Am Bread was born in a game jam, in two days," says Jele. "Afterwards we had a regular experimental teams who can choose what project they want to work on and they chose I Am Bread. And we told them you have two weeks [to work on the game]. After which, we want some sort of a measurement to see if the audience would be interested."
We wanted to know how Bossa decided to make Spy_Watch, and what impact does the wearable have on the kind of game you can make. Jele explained that a different process was required to tackle the new gadget as a gaming device. Unlike smartphones, there's a smaller amount of screen space to work with on the Apple Watch and users aren't likely to spend more than a few seconds glancing at it at any given point.
"We didn't come in with the idea of 'oh, how can I pull off an existing game on it?' Rather we were looking at what game would work best on the watch," he says. "If you remember the original iPhone, when it came out, the first couple of games on the touch screens were just games ported to the iPhone. And then at some point developers made games that were specifically designed for the touchscreen."
"Our aim was to skip the first part and immediately go to the game which is designed around what the limitations are," he adds. "And if you look at it that way, it is a challenge but it becomes a very exciting challenge, it becomes a knowing challenge that all of these limitations are there, such as designing for the small screen size."
Keeping this in mind, Jele tells us that the team at Bossa paid attention on what an average individual's experience with the Apple Watch would be. It decided that the game had to be about quick interactions, with actions happening in the background even when the player isn't poring over his or her wrist.
"We call in the office as background gaming, the idea that the events of the game take place almost real time automatically and you interact with the game every now and then," he says. According to Jele, this was the best method to use the Apple Watch's strengths while bypassing its weaknesses.
"I think some developers will struggle [with wearables]," says Jele. "Instead of looking of what this watch can do, and then build a new game or genre around that, what they do is come up with a game idea and struggle with what the watch cannot do. And our approach is what the watch can do and lets build on that rather than force a game and struggle with things that don't work."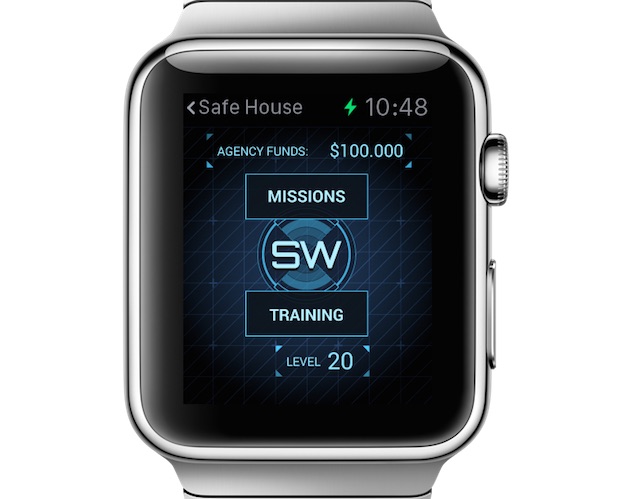 Now, Bossa will wait and watch for a few months as more people receive their Apple Watch, and start playing the game. According to him, data on how consumers interact with the device will allow Bossa to better understand what works and what doesn't in terms of gaming.
"My view is that worst case scenario will see the watch ending up as an extra monitor for your phone," says Jele. "It might be great for a game as a minimum thing, it will be home for some great companion apps. Let's say you have another app or a game, then on your watch you can do micro-interactions between sessions when you play the actually full game on your phone or console. That's the worst case scenario that's already pretty cool."
"I think the best case scenario is that we experiment again. I think our idea was pretty strong but again we're going to learn a lot in the coming months," he adds. "My hope is that we are going to invent new genres of games and new types of interactions. I do hope that we see things around augmented reality gaming and some other areas."