You might WhatsApp your friends, but email is still the preferred mode of communication for a lot of people. If you're using an iPhone or an iPad, then Apple's pre-installed mail app can seem good enough, but it is certainly not the best email client available on the App Store. If you want advanced features such as smart folder organisation or the ability to filter by attachment type, you're in luck. Read on to see which of our favourite mail apps will suit you the most.
Mailbox
Free (iPhone and iPad, Universal app)
If you like swipe gestures, then you might find Mailbox's UI appealing. If your inbox has several mails and you can never hope to have it empty, Mailbox shows you a few ways to get to inbox zero. You can archive all messages, all except unread or all except starred mails. You can automatically send emails to various lists (such as bills, tickets, etc.), make the app remind you to read certain emails at certain times, send them to archive or trash folders. Just create auto-swipe rules and the app takes care of the rest.
For instance, if you want to automatically send all your phone bills to a folder, long-swipe left (until you see a brown list icon) and hold it until you see an arrow encircle the list icon. You can select whether you want all emails from the sender's address to go to the list, or if you want all emails sent to your email to go there.
Mailbox is great, but it isn't perfect. For starters, it doesn't let you save drafts or sort multiple messages at once. It also doesn't let you mark mail as spam.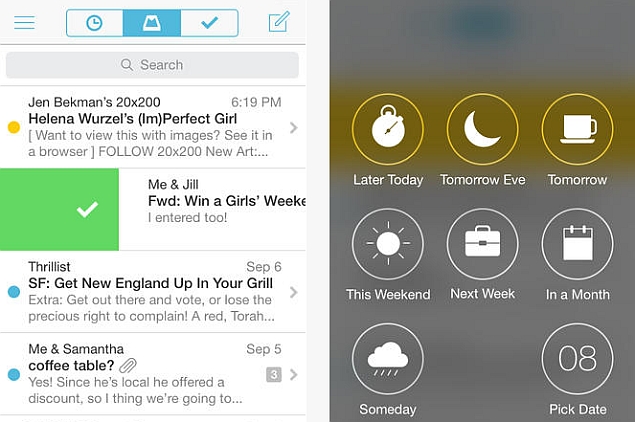 Cloudmagic
Rs. 620 (iPhone and iPad, Universal app)
This is the app of choice for productivity. If you have multiple email accounts across services, then Cloudmagic may be the best email app for you. It supports Gmail, Google Apps, Yahoo Mail, Outlook, Exchange, Office 365, iCloud and IMAP. That's likely enough to support services used by most people. This app has a passcode lock feature to help you keep emails private. Cloudmagic lets you swipe towards the left on any conversation to delete or archive mails, apart from marking them unread or read. The app uses thin fonts which give it an elegant touch.
What really differentiates this app from the rest is the integration of "Cards". The app supports certain services and lets you perform actions such as creating notes in Evernote or saving links to Pocket, all from within Cloudmagic itself. Open any email and tap the Cards button at the top to choose which services you want to integrate. One shortcoming is that you can't mark mail as spam.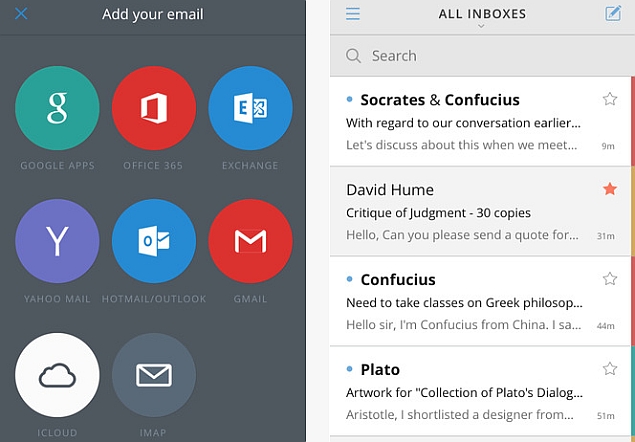 Boxer
Free (one account - iPhone and iPad, Universal app)
Rs. 620 (Multiple accounts - iPhone and iPad, Universal app)
If you are looking for an app that hits the middle ground between Cloudmagic's power user features and Mailbox's ease of use, then Boxer may just be the right email app for you. It is gesture-friendly and has very handy quick-reply tools to help you clear your inbox. The app lets you "like" emails too, which means that the app sends an email that says you "liked the message using Boxer". It can be a quick way of saying you've read the email and that it's nice. You can also create template responses such as "I'm on it" to save time.
Boxer lets you mark email as spam, which isn't an option in the apps mentioned previously. It has integration with Evernote, Apple's Calendar app, supports Gmail labels and even has a neat to-do list, where you can send emails and the app will ensure that you don't forget them. This app is free but if you want to use multiple accounts, you'll have to shell out Rs. 620 to get the paid version.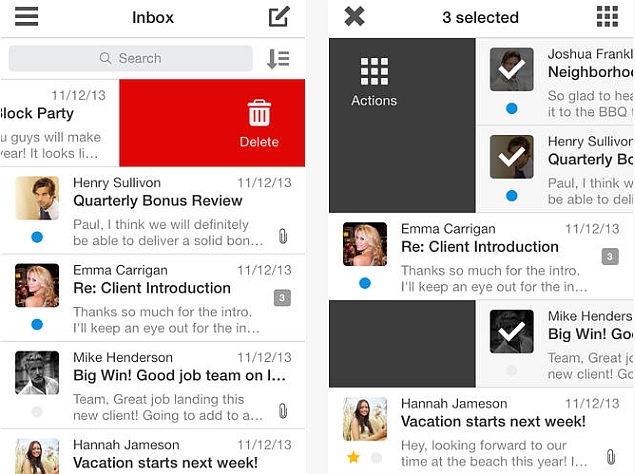 Acompli
Free (iPhone only)
All of the apps above are very useful in their own right, but none of them focus on calendar events - a staple feature for Exchange users. If you want a calendar-focussed email app, then Acompli is what you need. Without leaving the app, you can quickly set up a calendar event and send invites to others in your network. Acompli also lets you quickly access all the attachments in your account. You can connect your Google Drive and Dropbox accounts to access even more files and attach them without exiting the Acompli.
That apart, Acompli has another nifty feature up its sleeve - location sharing. This is invaluable for calendar invites and quite useful if you just want to let someone know where you are. This may not be the app power users want, but it is a good option for those who want a fully-featured client for Exchange accounts.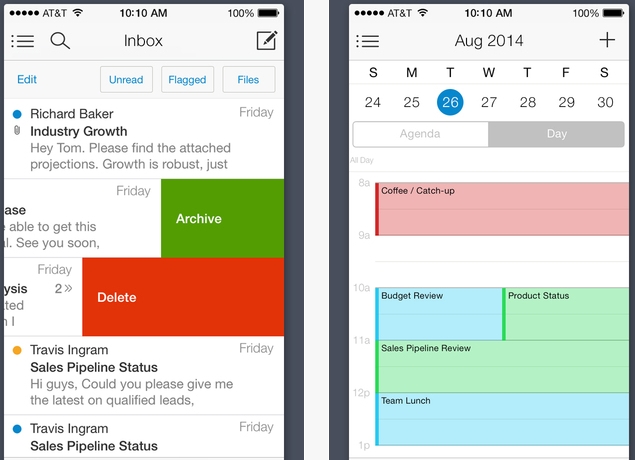 Inboxcube
Free (iPhone only)

Inboxcube steps off the beaten path by focussing on email attachments. If you want to search only for emails with photos or pdf files, this app lets you create "cubes" or quick links to search particular attachment types. When you click on any cube, you get to see all files with that type in a nice two-column layout. For example, tapping a photos cube will show you all the photos in your inbox in a grid layout. You can tap any photo to go to the respective email. Supported cubes include links, starred mails, photos, documents, videos, pdf, Word, Excel and Powerpoint files.
Bonus

While the apps mentioned above should be enough for most people, there are always those who want to try something new. If you are one of them, try these email apps.
Triage
Rs. 120 (iPhone only)
If you want a radically different take on email to go through several emails everyday, try Triage. This app abandons the traditional inbox view and merely shows you one email at a time. It looks like a stack of cards, and you are looking at these from the top. You can quickly read emails, reply and swipe upwards to send them to archive or downwards to keep them in the inbox. That's about all this email app does. It may not sound like much, but Triage can be useful if you want to get rid of non-important mail quickly. It supports Gmail, Yahoo! Mail, iCloud, and IMAP.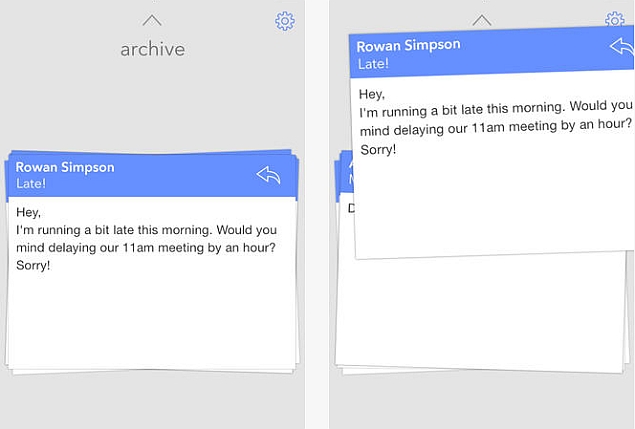 Dispatch
Rs. 300 (iPhone and iPad, Universal app)
This app has almost all of Boxer's features, coupled with integration with a few more third-party services. Two of Dispatch's standout features are an unsubscribe triage and snippets (quick reply). The unsubscribe feature helps you find the unsubscribe link and lets you stop those emails without leaving the Dispatch app. Quick reply helps you quickly type template replies such as "I'm running late".
Dispatch also lets you quickly perform tasks with apps such as Evernote, Fantastical, etc. If you rely on any of these apps for productivity, Dispatch might just save you a lot of time. And yes, it does support gesture-based navigation a la Mailbox, enabling you to 'dispatch' mails quickly.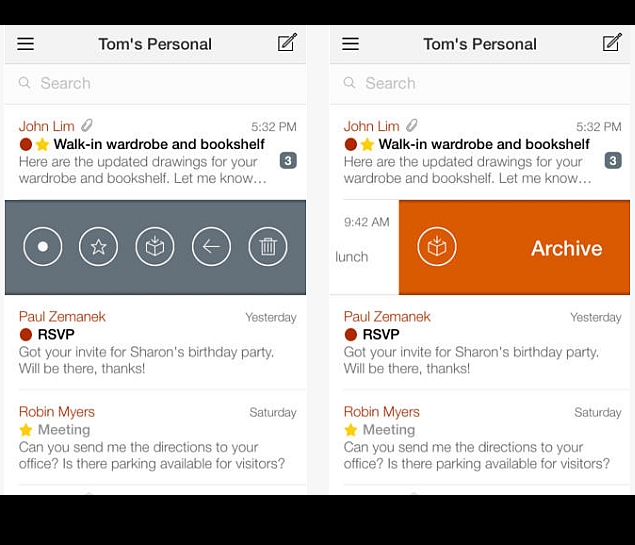 If we've missed any of your favourite email clients, let us know with a quick comment. You can also share your experiences with the email apps mentioned above and which ones you liked.