"My first gadget, an Apple iPhone 3G, was gifted to me by Bollywood superstar Shahrukh Khan," says a starstruck Feroz Khan. A minor star in his own right, this 38-year-old Bollywood choreographer's claim to fame is his association with one of India's most popular dance reality television show - Dance India Dance. He also choreographed the moves for the famous Maa Da Laadla song from the movie Dostana.
We meet Khan at a coffee shop in suburban Mumbai with the agenda of figuring out how he uses technology to change the way he works. Seated in a nondescript corner of the bustling joint and merging with the crowd that is possibly filled with aspiring Bollywood stars and starlets, Khan is engrossed in his iPad Air. "I am trying to download Ultrakam. It actually lets iPad users shoot in 2K resolution," he breaks the ice and hooks us instantaneously.
Khan's distinctly thin frame is decked in a t-shirt with pixel print and a pair of torn jeans. His exhaustion becomes apparent when he says, "I was helping Farah maa last night for her next venture Happy New Year which stars Shahrukh sir." Placing the order for a coffee at the counter with the staff, who recognises him and is more than eager to help, he proclaims, "I haven't had proper sleep for the past 15 days."
Our conversation harks back to the iPhone 3G when Khan mentions how Apple caught the fancy of people with cool apps and mobile gaming galore. We dig a little deeper into his past and uncover his fascination for gadgets which takes us back to a time when remote controlled (RC) cars were the craze. With a smile plastered across his face he says, "My dad used to get me RC cars and I used to rip them apart at that age. My mom would immediately become furious. It was an expensive toy for a child to own at that time."
A slightly fidgety Khan shifts his attention to the iPad Air, which is incidentally the top end 128GB version with Wi-Fi and 3G connectivity and protected ably by Apple's very own Smart Case. He wants to show us some apps. This time, we are more than eager.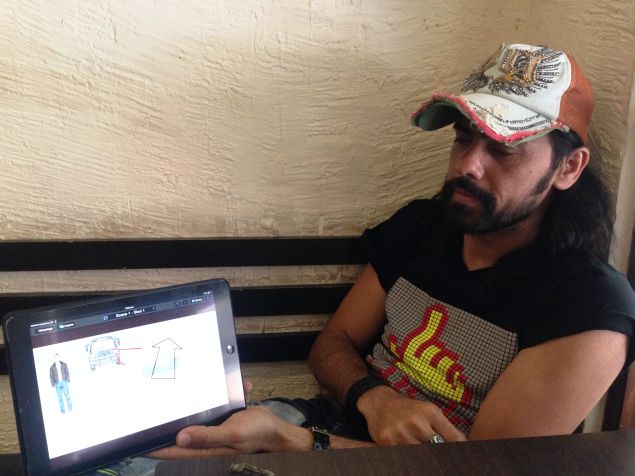 'App'-lication
His obsession with apps becomes apparent when we take a peek into the retina display. It is filled with at least 70 odd apps and games of varying kinds, all arranged neatly in folders. Swiping through the multiple pages and taking us through them Khan tells us, "My iPad is my second wife. Sometimes, I sit all night scouring through the app store for new apps."
Our interest, however, lies in how he uses them effectively to better choreography.
The tech-savvy Khan gladly explains how he uses a combination of apps for professional work. These are mostly camera apps, like SloPro, Filmic Pro, Rewind Camera and Artemis HD. "I used all these apps in tandem during my rehearsals for Dance India Dance. It helped me determine errors by monitoring footage on the spot immediately after rehearsals."
With SloPro he can playback captured footage at 1000fps, which helps him minutely analyse choreographed dance moves. He uses Filmic Pro - a professional grade camera app - to capture better quality video and to frame a composition accurately. In his profession, sometimes it is important to view the action in reverse. This is when Rewind Camera comes in handy for Khan. Artemis HD is his favourite app since it allows him to compose shots with the same field of view as the lenses the Director of Photography (DOP) will be using.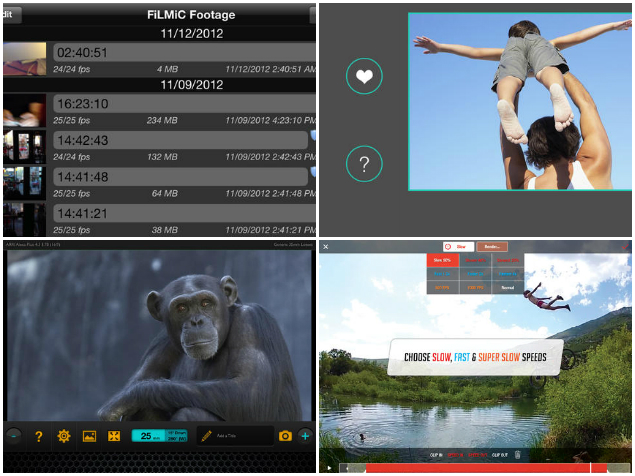 It is now common knowledge that B-town has a fascination for shooting songs in fancy locations. We learn that ideally, enterprising choreographers tend to do the job of location scouting. "Initially when we headed out to scout for locations, we used a digital still camera to capture the images. Send it to the studio in the evening to process the captured images. If we are lucky, get it the very next day and send it to the DOP for approval. It was lengthy process," explains Khan.
Today, he uses his iPad effectively to capture pictures of possible locations for the shoot sequence and shares them immediately over email.
Fanboy?
There is no refuting the veracity of the statement that tablets have superior battery life and offers better portability when compared to laptops. Khan is particularly enamoured by those aspects and also the connectivity features that tablets offer. "I wish 4G connectivity comes sooner than later. It'll help me work faster."
Elaborating on the love for Apple products, Khan mentions that his me.com signature reads 'sent from a Steve Jobs device'. Like a shot of espresso, it suddenly hit us that we were dealing with a fanboy.So much so that Apple also featured him in their "Your Verse" campaign.
Affirming this suspicion is the fact that, apart from the iPad, Khan also owns an iPhone 4S which his wife presented as gift for a particular New Year and a Macbook Pro, once again a gift, this time from Vibha Chopra, Zee's head of marketing, research and communication. It is almost like he doesn't want to acknowledge the existence of other devices and operating systems, though he was a Blackberry boy once upon a time.
Waiting for Gratification
Khan's story of how he used his iPad Air has been used by Apple recently to drive positive marketing communication around the device. "I have been shooting with Shahrukh sir extensively and I got a chance to mention how Apple featured me on their website. He was very excited. I hope he must have seen it by now. I am eagerly awaiting his reaction."
It is only befitting that he gets a positive feedback from King Khan, since he introduced Feroz Khan, then budding choreographer, to the world of Apple and hence, changing his life for good.
Our conversation is almost coming to an end and the coffee hasn't arrived yet. A restless Khan, gets up, apologises that he cannot stay longer since he has another meeting to attend and rushes off.
We predict another sleepless night.