Who says smartphones and tablets isolate people from each other at gatherings? There are several awesome board games that will keep everyone occupied and if those aren't what you're looking for, we have a list of our favourite party games too. These games are ideal for parties as they'll make you talk to your friends to win or even dance with them. If that sounds like a fun thing to do at a party, you'll love these games.
1. Psych!
This is a game where you win if you can outwit your friends. Free to download and featuring multiple mini-games, Psych! encourages you to key in fake answers for various questions and rewards you when your friends choose your made-up answer.
Three mini-games are free, but you'll have to buy the rest for ₹80 each. Alternatively, you could just open the app every day, collect free coins, and use these coins to buy the mini-games you need.
Download: Psych! for iOS or Android
2. Heads Up!
Heads Up! was made by the same people who made Psych! and it is just as much fun. You hold the phone up on your forehead and let your friends see the word on it. They give you clues to help you guess the word and you win if you can guess before the timer runs out.
In-app purchases work similar to Psych! The base game is free and you can download additional card packs for ₹80 each.
Download: Heads Up! for iOS or Android
3. Bounden
Bounden is a game where you and your dance partner hold one smartphone and dance. It's a fun way to learn how to dance, apart from being a fun game to play at parties.
Bounden is a paid up-front game with no in-app purchases. It may seem a bit awkward but once you try it at a party, you'll see how much fun this game is.
Download: Bounden for iOS (Rs. 250) or Android (Rs. 70)
4. Spaceteam
You are a part of a crew tasked with saving an exploding ship. Spaceteam is a fun party game because you'd be shouting instructions to your friends - they get instructions meant for you and you get the directions meant for them. You'll win only if you ace your coordination game.
Spaceteam works amazingly with people you know well and those you're used to communicating with. Exactly the kind of game that brings people together at a party.
Download: Spaceteam for iOS or Android
5. Reverse Charades
This is slightly different version of Charades or the game Heads-Up that we've mentioned in this article. Here teams choose quick rounds of 30 to 90 seconds and try to guess as many words as possible in that time. That makes games a lot faster and works better for large groups.
Reverse Charades is an interesting take on an all-time party favourite. It'll have you on the edge of your seat while your friends are jumping and dancing around trying to act out words as fast as they can.
Download: Reverse Charades for iOS or Android
6. Hearthstone
Hearthstone is a slightly unusual choice for a party game but it allows you to create local tournaments where each person plays via their own device. This means you can play the insanely fun card game against your friends one by one while others in the party spectate.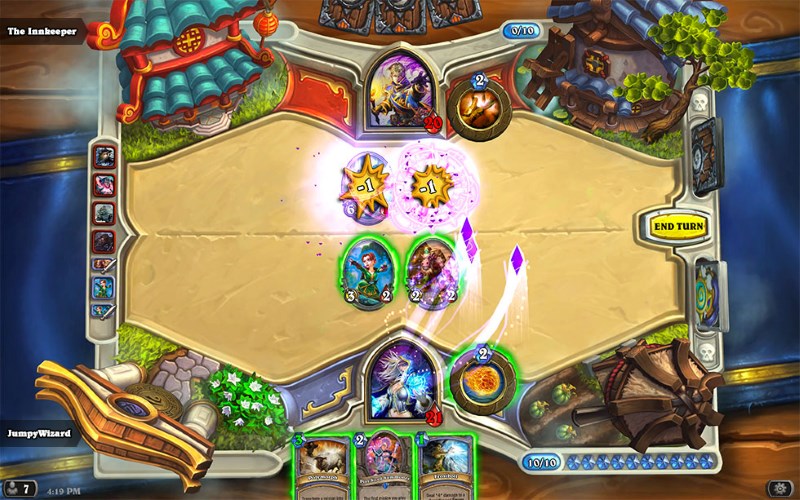 There's a bit of a learning curve involved in this game and it'll be fun only if players are evenly matched. With the right group though, the game can be completely addictive.
Download: Hearthstone for iOS or Android
7. Bam Fu
This game will unleash a fight on literally on your smartphone or tablet's screen. Everyone plays on one screen trying to capture as many pebbles as possible by tapping the screen. Pebbles loop through your colour when you tap them.
Whoever's leading at the end of five rounds wins. This game can lead to a serious battle for screen space.
Download: Bam Fu for iOS (Rs. 80) or Android (free)
8. Yahtzee
If you're into dice games, Yahtzee can be a lot of fun to play with friends. It's a mix of skill and luck, as with most dice games, and the winner is the person who scores the most points after 13 rounds.
Check out Yahtzee if you want to add a dash of fun to your next party.
Download: Yahtzee for iOS or Android
If these aren't enough, you can always search for popular games such as Uno, Scrabble, and Monopoly on iOS or Android and play those. You'll find most of your favourite board games on these platforms.
Which are your favourite party games for smartphones and tablets? Let us know via the comments.