When you think of board games, you might remember childhood favourites like Ludo, Monopoly, or Scrabble. Other games like Scotland Yard or Game of Life introduced bigger boards, props, and complicated scoring mechanics as well.
Tablets, with their large screens and tactile interface are ideally positioned to play board games. With most games, you can see the whole board, and physically move pieces, spin wheels, and select cards the way you would in the real world, but the medium allows more than just replicating the physical experience - it's possible to make it better.
When you're playing a board game on a tablet, you're not thinking about unpacking and packing dozens of small pieces which might get lost - setting up a session of Game of Thrones can take a couple of hours before you even start playing - there's no need to have a complicated rulebook at hand to check if that last move was legal, and scorekeeping is accurate and automatic.
The iPad definitely has a lead over Android tablets in this space, and all the games we've listed are available on Apple's tablet, but some of the games are also available on Android.
1. Hearthstone: Heroes of Warcraft (Free)
Blizzard's trading card game is a bit of a break in tradition for the Warcraft publisher but Hearthstone is one of the best card battle games on the App Store right now. There's a lot to love about this game - it features the same gorgeous art and audio that we've come to expect from Blizzard, but it is also a wonderfully enjoyable game.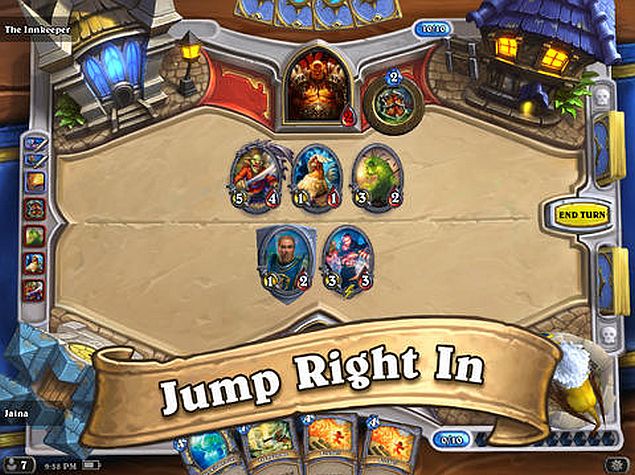 In Hearthstone, you play as a hero with a fixed amount of health, and must play cards which can be used to summon minions who can attack the other hero, cast spells, and more. The game is very accessible, but there are layers and layers of complexity and strategy that slowly become clear as you keep playing. Hearthstone doesn't have the option to play with another player on the same iPad - you can only connect online, but it does a great ob of making you feel like you're sitting with another person and playing.
2. Risk HD (Rs. 420)
Build armies, move armies, and crush your enemies. Risk is at its core, a very simple board game, but setting up that huge board and managing all the cards and small pieces involved can be extremely intimidating. The iPad version takes all the set up out of things, and lets you play against a computer opponent, pass the iPad around for local multiplayer, or play with someone over the Internet.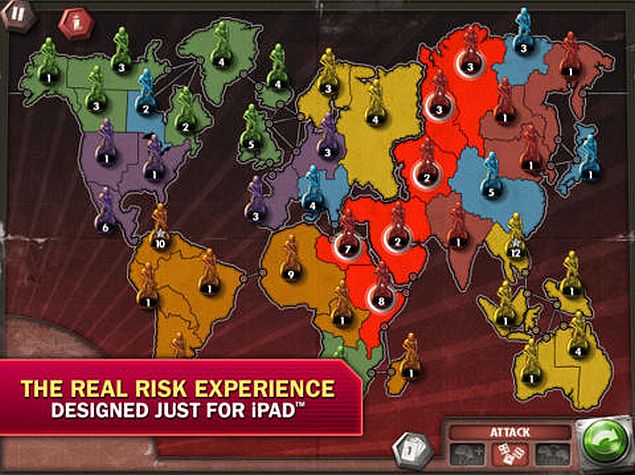 Since you don't have to do the turn-by-turn set up, and since moving units around can take just seconds, the biggest plus point of this version of Risk is that you can actually complete an entire game in less than an hour. Android users can try out Domination a free app which is pretty similar, though it doesn't have the same level of polish as the official version, which is only on iOS.
3. Scotland Yard (Rs. 300)
Scotland Yard (pictured top) has been around for 30 years now, and the digital version is also published by Ravensburger, just like the physical game. It retains the gameplay of the physical game, but makes it much easier to track your various tickets, and it has support for 3-6 players, and also can add AI players so if you've got a small group but want to make it challenging for Mr. X (who has to avoid the police while traveling around London) then you can just add some bots.
The game also includes a tutorial and tips, so you can pick up how to play much more easily than with the actual game. The game automatically tracks everyone's tickets and therefore it's easier for everyone to keep track of how the game is progressing, and lets you instead focus on strategy.
4. Scrabble for iPad (Rs. 620)
Scrabble (iPad, Android) is one of the most famous word games out there, so we probably don't need to describe it for you. The digital version of Scrabble faithfully replicates the real game, and unlike Words with Friends and other similar games, the board layout has the traditional X-shaped layout for high scoring tiles, encouraging you to play out to the corners. It also includes a built in dictionary, a teacher mode to help improve your scores, and no ads whatsoever.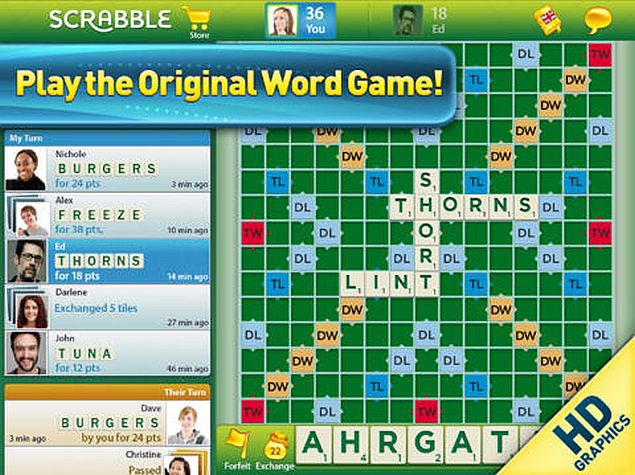 You can play the game against the computer, or your Facebook friends, or pass and play on a single device. There are several free alternatives, but if you've played a lot of Scrabble in real life, then you will definitely prefer playing the real thing. The Android version is free, but includes pop-up ads.
One very interesting feature in the iPad version is that it can connect to iPhones, so you can use the iPad as the "board" while your tiles are on your phone. This way, you can play the game without having the pass the iPad around between turns. There are a few arcade style games with this feature, but it makes so much sense for board games, we're surprised more developers haven't adopted the idea.
5. Ticket to Ride (iPad Rs. 190; Android Rs. 420)
Ticket to Ride is one of the best board games for younger players, as it is not too difficult to learn the rules, and involves a good mix of cards, plastic pieces you can lay out, and a beautiful board. The app (available on the iPad and Android) is a very faithful rendition, and while you lose some of the tactile appeal of the actual game, the developers make up for it with some great animations and sound effects. It also helps by highlighting legal moves and organising your various tickets, and saves you half an hour of packing at the end of your game as well.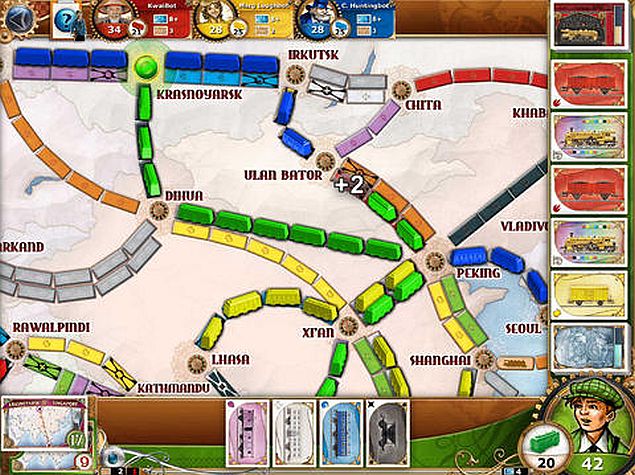 The only catch is that the game is loaded with in-app purchases - the various add-ons can get quite expensive, with the pack for Ticket to Ride Europe (Rs. 300) costing more than the actual game. Given the price of the real board game though, we're not complaining.
6. Small World 2 (Rs. 620)
Another game by Days of Wonder, Small World (iPad, Android) also has the same visual appeal as Ticket to Ride, but it is actually a lot more complicated. It plays like an advanced version of Risk, with goblins and rat-men, instead of tanks and soldiers, and on a much smaller board. This means that you're constantly in conflict, and unlike Risk, in small world, you get a limited number of troops whom you spend and then send into decline, moving on to the next set of armies available. Each army has different abilities, so the gameplay is much more unpredictable and fun.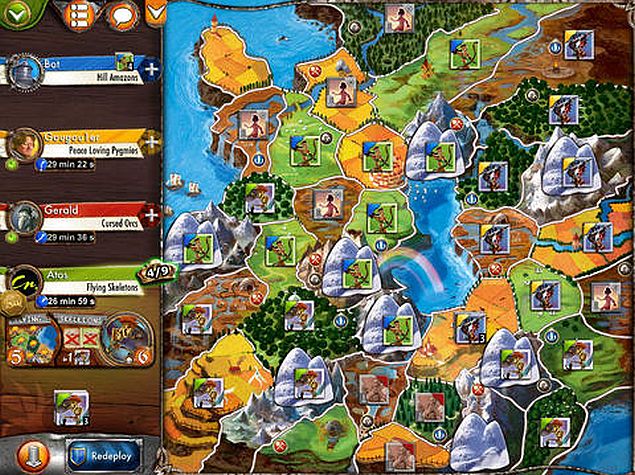 Small World 2 on tablets lets you play with your friends on a single machine, or across the Internet, and up to five players can play simultaneously.
The actual game can be a challenging one for new players, and the iPad version does a great job of explaining the rules and teaching you how to play the game, and it also automatically tracks the score, which can get pretty complicated with this game.
7. Carcassonne (iPad Rs. 620, Android Rs. 50)
Carcassonne (iPad, Android) is a city building game in the broadest sense of the term, but it is harder to define than that. There is a central deck of tiles, which could include roads, farms, or portions of a city, and each player must take a tile in turn, and place it on the table, touching a tile that has already been played. This continues until all the tiles run out, and you can claim the various roads, or farms that get built by placing one of your followers on the tile. Carcassonne looks deceptively simple, but there's a fair amount of strategy involved. At its most basic though, it is a simple jigsaw puzzle with as many solutions as you'd like, so anyone could play.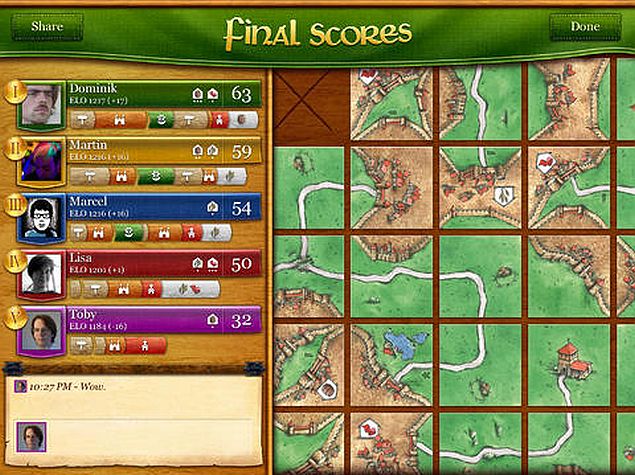 The iPad version demystifies the scoring (which can get really confusing thanks to farms and cities) and since the game can also take up a pretty big table by the time it's getting finished, the digital version is a lot more convenient.
8. Catan HD (iPad Rs. 300, Android Rs. 212)
A city building game that is not for the faint hearted, Catan (iPad, Android) lets you play with other players or with the computer, and lets you compete with up to four other players to build armies, settlements and roads. The game includes construction, resource collection, and trading with the other players, though you have to use an in-game menu to trade things which can be a little more complicated than just handing over tokens to the other players.
With that said, it's still got one thing going for it that the physical game does not - an interactive tutorial which takes you through an entire game, which is simply invaluable. Catan is not a game for kids, and it's not a very accessible game at all. It is a complex game which involves a lot of strategy, and while it's very rewarding once you get the hang of it, having the tablet version teach you how to play is really a huge step up from sitting with the manual with your eyes glazed over.
Honourable mentions
These are just some of an ever growing number of great board games on the iPad - and more are getting added every day. This includes not just classic games like Pandemic (where you are part of a team trying to contain an infectious global pandemic) and Puerto Rico (where you are a Spanish governor of Puerto Rico, building up the colony, but also modern games which nonetheless draw inspiration from board games.
This includes gems such as FTL where you are a space ship captain on a dangerous mission, who must manage his crew, upgrade the ship, and make life or death decisions at every turn. Frozen Synapse on the other hand could be described as a strategy version of Counter Strike, or chess with guns if everyone made their moves at the same time. XCOM is another contender for that title, as you lead your crew of soldiers from scenario to scenario, taking turns to make them move, shoot and defend, while facing an alien invasion.
Hopefully you've got a full list of games to buy. If there's a game you think others should know about, do let us know via the comments.