In India, where gold is the investment medium of choice, low-cost stockbrokers reckon they can grow the paltry percent of households investing in shares with apps that make it as easy to buy stocks on a smartphone as it is to buy gold on a highstreet.
India is one of the world's biggest gold consumers as millions looking to grow income have traditionally headed for the nearest jeweller. But gold's reputation as a safe store of value has been tarnished by a 42 percent drop in prices over the past four years and an equal rise in stocks.
Even so, less than 1.5 percent of households put money directly into shares, compared with around 10 percent in China and 20 percent in the United States. Online brokers Zerodha and RKSV aim to narrow that gap by taking advantage of India being one of the world's quickest-growing smartphone markets.
"Our goal is to turn the younger generation, who are connected to the Internet for the first time on their smartphones, into investors," said Nithin Kamath, co-founder and chief executive of Bengaluru-based Zerodha, India's largest low-cost broker, which is currently testing a new app.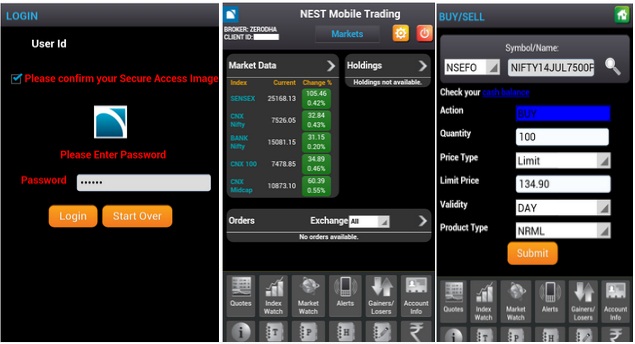 Full-service brokers, the more commonly used intermediary in India, offer apps that make up a sliver of trading volume. Cut-price brokers aim to raise the numbers by making apps more user friendly and charging as little as Rs. 20 ($0.3) per trade.
"Mobile apps have been around but they just don't work as advertised. We have redone our app from the ground up, which will get people to actually trade on their phones," said Kamath.
Brokers have struggled for growth since the 2008 financial crisis, even though stock prices have long since recovered. An estimated 600 closed since the crisis, including heavyweights such as the retail broking arm of HSBC Holdings PLC .
"Discount brokers have not only been able to add clients at a good pace but ... their clients are almost twice as active" as those of full-service brokerages and banks, said analyst Karthik Srinivasan at researcher ICRA.
Mumbai-based RKSV plans to release a new app that it hopes will help grow its customer base 10 times from the current 25,000 users in five years.
"We are going mobile-first and that's going to be the big differentiator for us compared to old-school brokerages," said co-founder and chief executive Raghu Kumar.
"We don't think of ourselves as discount brokers. What we are doing is using technology to make trading more accessible."
© Thomson Reuters 2015