The vision of the future that all the biggest companies in the world seem to share is one where we're surrounded by machines, and where we're talking to them all the time. Think the movie 'Her', but hopefully less pastel shades or self-aware machines. Everyone is talking about bots and AI now, from Google to Facebook to Microsoft. While the notion of being able to tap at your phone and order lunch to your desk the way you would at a restaurant, asking for recommendations and fine tuning your order instead of browsing through an uninformative menu sounds appealing, our reality remains far from that right now. Most "bots" that you can actually use right now are basically just fancier versions of IVR systems, where you work through menus, one step at a time. This could change in the future though.
"Our goal is to beat the Turing Test," says Ronak Modi, Product Manager, Fynd. The Turing Test is a well known test of a machine's intelligence, and to pass it, you shouldn't be able to distinguish between an artificial intelligence and a human one. Fynd recently launched a Messenger chatbot it calls Fify (pronounced Fee-fee) that Modi and his colleagues believe will become a friend who can guide you on all things related to fashion - and hey, once you've got some tips, Fify can also help you buy those items from Fynd.
That's the idea anyway, but the experience of actually talking to Fify is more an exercise in frustration for now. For example, ask Fify if she can help you buy a tie, and she suggests you ask about shoes instead. Ask her about socks in response, and she's left scratching her head - you know this because she sends a cartoon sketch showing the head-scratching.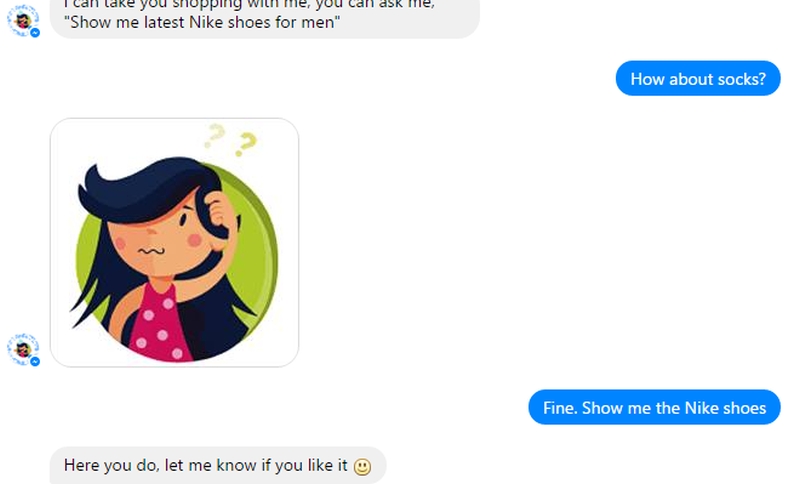 Limited intelligences
Asking for some Nike shoes (something Fify recommended) shows what appears to be an endless carousel of shoes - there's no easy way of seeing how many there are, and so you will have to keep swiping. Fify is supposed to learn from your questions, so after asking for Nike shoes, it seemed reasonable to ask her to show only shoes for men. This however, meant seeing all brands' shoes for men instead of narrowing down our earlier results.
You can fine tune answers - ask for running shoes for men, and you'll get a better selection; ask for black running shoes for men, and the selection of shoes you're shown is further winnowed. But there isn't too much consistency in this. When you ask for running shoes, the first shoe is black in colour. When you ask for black running shoes, it's not there in at least the first five stops in the carousel. As a result, chatting with Fify is - to paraphrase Forrest Gump - like a box of chocolates; you never know what you're going to get.
Modi is quick to acknowledge this, and points out that Fify has been around for less than a month, and adds that the bot is going to be learning, and getting better the more it is used. "Fify is already learning a lot but it is very preliminary right now," says Modi. "It will of course fail at times, because we've only just opened it out, but it will keep getting better."
And there are some special challenges that operating in India bring in, over and above the general issues that any company developing a chatbot would face - English grammar is often unique, and usages vary across the country. Hinglish, and other regional variants, further complicate matters. Figuring out conversation in India - even for people - can be as confusing as the Tower of Babel. But that doesn't mean people aren't trying.
With the app market getting more and more crowded, it's easy to understand why. The high cost of customer acquisition on apps means that developers across the board are looking for the next new thing that can help them stand out and reach a wider audience more quickly.
"We want to be a platform for conversational services, so that you don't have to download a company's app to use its product," says Pratik Jain, the co-founder of Morph.ai, which is a B2B company that is looking to enable conversational commerce for anyone that's interested. "We can work on Facebook, Twitter, live chat on your website, all of that. Right now, all of these channels are mostly being under-utilised. They're only used for customer service, 'hello can you tell us what the problem is?' type of solutions. But they can be used to do more."
Narrowing the focus
"You want to build a chatbot? We can build you one," adds Jain.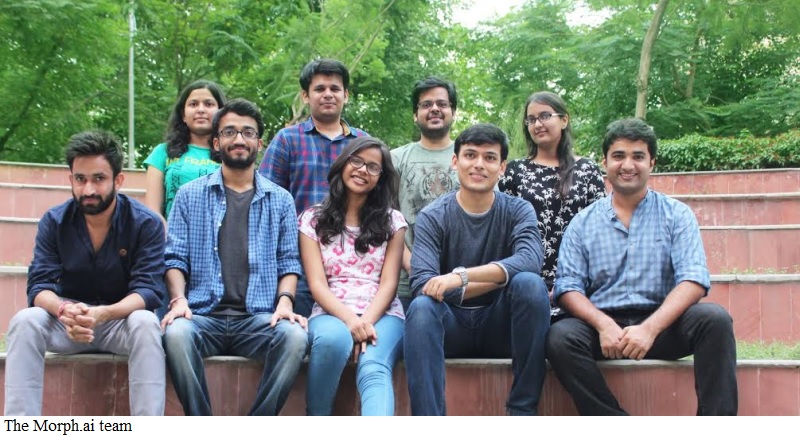 The idea is simple - the AI, or the brains of the system, will remain common across all the different companies that choose to work with Morph.ai. The body - that is to say the information and services that a company offers - will be unique to each client. What this means is that the same AI could be used to do everything from buying groceries to planning a vacation, thanks to partnerships with different companies which want to use the technology. At the same time, since each of these bots would have a specific purpose, they wouldn't get overwhelmed by having to make sense of too large a body of knowledge.
That's important, because as of now, the more 'intelligent' a bot is, the less useful it is; 'dumber' bots with more narrowly applied AI are able to guide you to a desired outcome much more efficiently, as highlighted in this article by Faisal Khalid, the founder and CEO of Eva, a chatbot for customer mortgages.
Morph.ai wants to charge a monthly subscription to companies to use its platform, and according to Jain is in talks with 12 companies so far. But while a demo wasn't available for us to try, Jain says that the app has, in internal testing on open APIs, been able to reach around 70 percent accuracy right now. "This depends on how the customers will also interact - in some cases it will be higher, in some cases it will be a little less - but in general, 70 percent is where we are at right now, and we are working to improve this," says Jain. This takes into account all the difficulties that grammar, spelling, and other idiosyncrasies of language introduced in India.
But with voice systems still not being very well evolved, and text input being cumbersome, it's hard to see the immediate appeal of typing in "Send me an Uber to 207, Okhla Industrial Area, Phase III," instead of just tapping ride now, after a quick glance to confirm that the app has the correct location. But Jain [obviously, given what his company does] believes that a lot of people are still not comfortable using UI based apps and that they would much rather use text based systems.
"Chat won't replace apps, just like they [apps] did not replace the Web," feels Jain. "Apps are for the tech savvy. Chat is for all. My grandmother doesn't use any apps other than WhatsApp. With Morph, she could use the services of any app, right from inside WhatsApp."
The next billion?
Both Jain and Modi brought up WhatsApp multiple times in our conversation. The reason for this is very simple - WhatsApp now accounts for 1 billion users, with 70 million in India alone. "Everybody knows how to use WhatsApp," Jain reiterates. "Facebook Messenger has 900 million users," says Modi, "and communication apps are trending." The idea that there is this huge, untapped audience, is clearly appealing.
Facebook is already bringing bots into Messenger, and if it does the same for WhatsApp, that will open up a huge market, in theory. Early impressions of Messenger's bots aren't very positive, with reports of latency, and often needless back-and-forth. And there is another question too. How many people are using these apps just to say hello to their grandkids once a month? How many people see these apps as a 'destination', instead of just a conduit to specific contacts?
The conversational commerce rush of 2015 seems to be dying down. For example, Akosha had a round of layoffs as it changed its focus from customer complaints, to a general chat service, and changed its name to HelpChat. Now, the company's CEO Ankur Singla says "chat isn't as much of a focus for us anymore," and adds that the mechanic is too cumbersome and involves too many steps. The company has shut down chat and laid off employees. Singla says that the brand won't be changing its name a second time; maybe because at this point he'd have to call it 'Help'?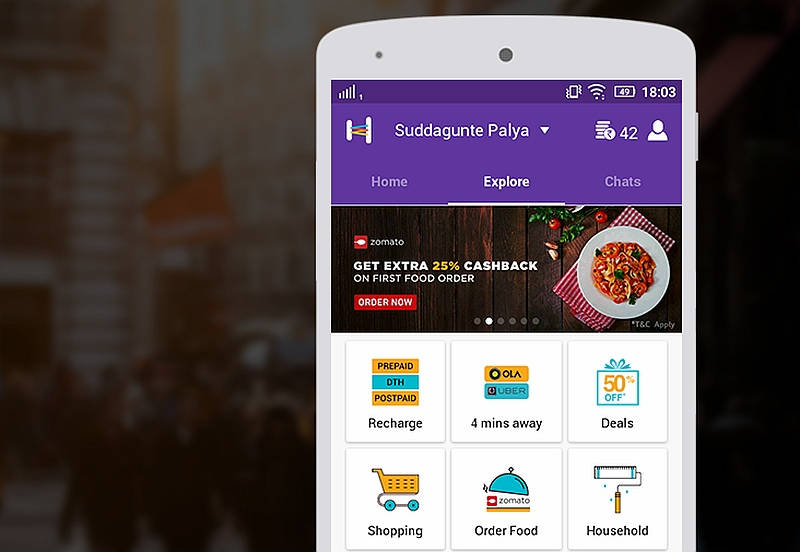 But while HelpChat soured on chat, others are still chasing the idea. However, as Microsoft's Tay proved, building a bot that can chat with the world at large is a difficult challenge. There have been plenty of other bots that were messed with by users with equally unfortunate results.
And of course, whether you agree with Singla or not about the eventual future of conversational commerce, the HelpChat founder is right about how cumbersome the interface is - typing in a long string of words isn't really convenient, and neither is branching through a tree of decisions. Delayed responses, constant back and forth, and the limited space available mean that bots have a lot of growing up to do. They could well be the voice of the future, but for now, there's also a lot of noise.