Most of us know a few doctors whom we've been visiting for years, and we automatically turn to them when we're feeling unwell. But what do you do when you've moved to a new city, or even a new neighbourhood? If you've just moved to the other side of town, will you still call a cab and go haring back to your old doctors, or will you find someone locally? And if you want to find someone new, how exactly will you do this?
Today though, this problem isn't that challenging to solve. The rapid adoption of smartphones in India means that there's an app for just about every need out there - except getting a beer delivered in Delhi, apparently. Right now, if you want to find a doctor, there are plenty of choices beyond just heading to Google. You can use startups such as Lybrate and HelpingDoc to get medical advice, find doctors and make bookings. You can also try Practo, which has been in this space for a lot longer, and aside from listings and appointments, offers doctors a practice management solution that includes billing, appointments, invoices, and prescriptions, as a subscription service.
(Also see: Is There a Market for 'Uber for Handymen' in India? These Startups Think So)
We caught up with Saurabh Arora, the CEO and co-founder of Lybrate, to talk about how people are using the app, and how he expects this space to grow over time.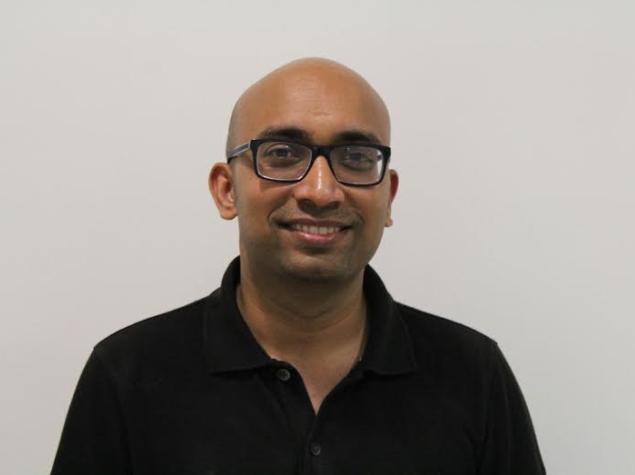 "There's a huge demand and supply gap for healthcare, particularly when you go outside of cities like Delhi and Bombay," says Arora. "Even in a large tier-2 city, you're going to have a lot fewer options. And when it's a small problem, we tend to self-medicate, simply because it's too much hassle to actually go to the doctor, even if you know where to go."
That's where Lybrate comes in - it is a chat-based platform, a mix of a forum and an instant messaging app. You can post your problems - describe your symptoms, or, if the problem is something like sudden hair fall, you might want to add photos as well - and doctors signed up with Lybrate will respond.
If necessary, you can choose to enter a private chat with the doctor and have a full consultation, where you can share more pictures if needed, and can talk on the phone as well. This is a paid function, but the doctor can also choose to ask you to come in for an in-person appointment if he (or she) feels it is required.
(Also see: Apps Are Indulging Our Misanthropy, and I Love Them for It)
According to Arora, Lybrate has over 80,000 verified doctors on the platform. There's a mix of allopaths, ayurveds, and homeopaths, with allopaths making up around 60 percent of the listed doctors. The allopaths' medical registration numbers are verified against photo IDs, and the company relies on feet on the ground to make this work, canvassing doctors in over 20 cities so far, including Delhi, Bangalore, Mumabi, Chennai, and Hyderabad.
"The app is useful for doctors as well," says Arora, explaining why the healthcare professionals sign up. "By reducing the number of visits you make to a clinic, it's saving you time and money, yes, but doctors usually have a waiting line anyway, so they're happy to reduce visits too."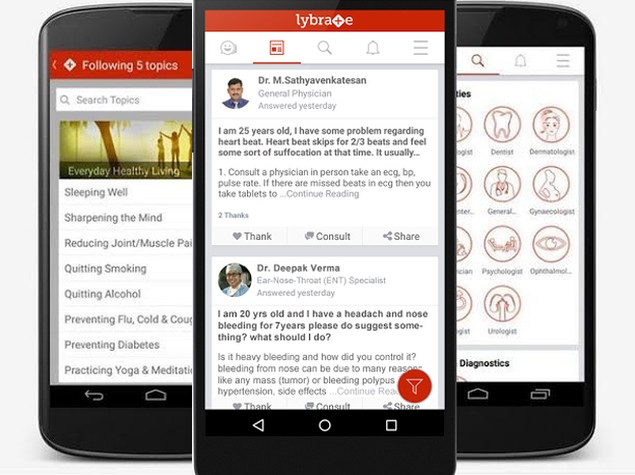 "The private chat is asynchronous, so they don't have to answer questions right away," he adds. "They can respond to questions between appointments, or during their breaks, so they can see more people [which they are paid for] without being overwhelmed. And for a doctor who isn't so well established, it's a good opportunity to build a brand online, and grow your practice that way."
With over 300,000 downloads, and users coming from the Web as well, Lybrate is seeing steady growth now says Arora, and new features will include voice and video chat directly through the app, for synchronous sessions.
"Dermatology, women's health, sexual health, and mental health are areas where we see particularly high engagement, maybe because people don't feel comfortable showing up at a doctor's office for these problems," says Arora. "Since the platform in anonymous, it's enabling people to seek treatment for conditions they would have borne quietly instead, because they were too embarrassed to address them."
If you're new in town, an app like this is a great way to get a doctor - and if you're not happy with your treatment, it's also a place where you can seek a second, or a third, or even a tenth opinion as your questions remain open for the doctors on Lybrate to answer over time. So the next time you're feeling a little under the weather, you won't have to hope things get better by themselves.