If you enjoy cooking, you probably already know just how amazing mobile devices are for managing recipes or just teaching you how to cook. In this week's feature, I look at the best food apps available, ranging from recipe managers to full blown cooking instructional apps.
1) Paprika
Paprika is an amazing recipe manager and organiser for cooks. It lets you save recipes from websites quickly with a nice in app browser, auto sorts your groceries, lets you plan your meals for the whole month, and more. Best of all, it has cross platform sync across iOS, Mac, Windows, and Android, so you can keep tweaking your lists no matter which device you're on.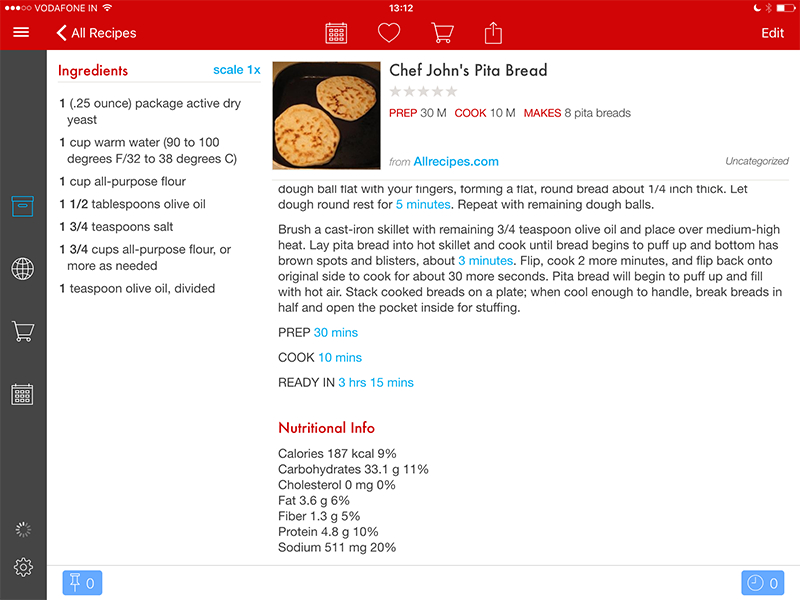 Download Paprika for iPad | Paprika for iPhone | Paprika for Android (Rs. 300)
2) Veggie Weekend Healthy Vegan and Vegetarian Recipes
This is the first of two Filibaba apps featured in the list. Veggie Weekend is a well-designed app that has various useful details for recipes. The recipes are all available offline and packs are available via in-app purchase, since the app is free to download.
I love the high resolution photos used and the in app cooking timer. Veggie Weekend also has a great Apple Watch app for quick access to timers and recipes. There's no excuse to not get Veggie Weekend since it is free and if you find the 18 recipes included useful, consider buying some of the recipe packs available inside.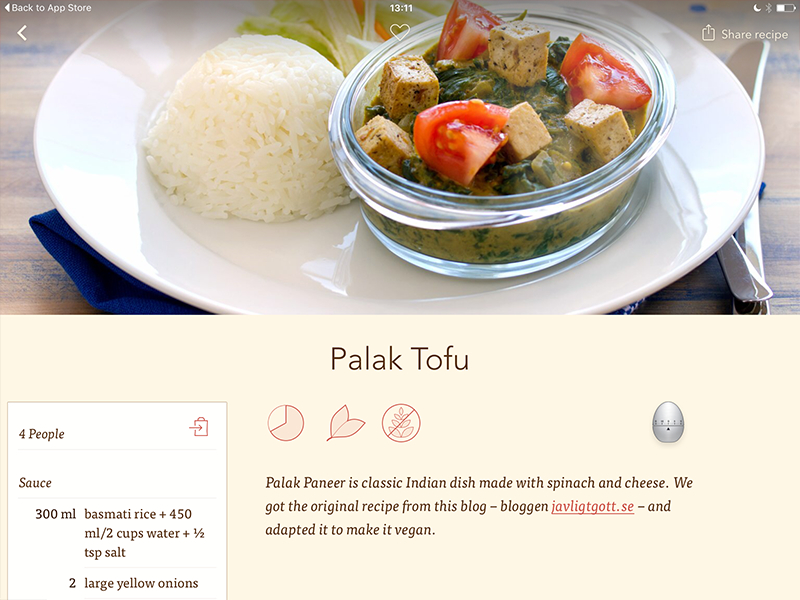 Download Veggie Weekend for iOS (free)
3) Allrecipes - Dinner Spinner
Allrecipes has an amazing collection of recipes and ratings in its vibrant community and Dinner Spinner gives you a nice window into that. It syncs with Recipe Box on Allrecipes and has loads of videos to help you cook that amazing meal. Support for seasonal recipes including new ones daily, ensures that you will never run out of things to do. Allrecipes - Dinner Spinner is a great all round app for your mobile device. Give the powerul search a go as well.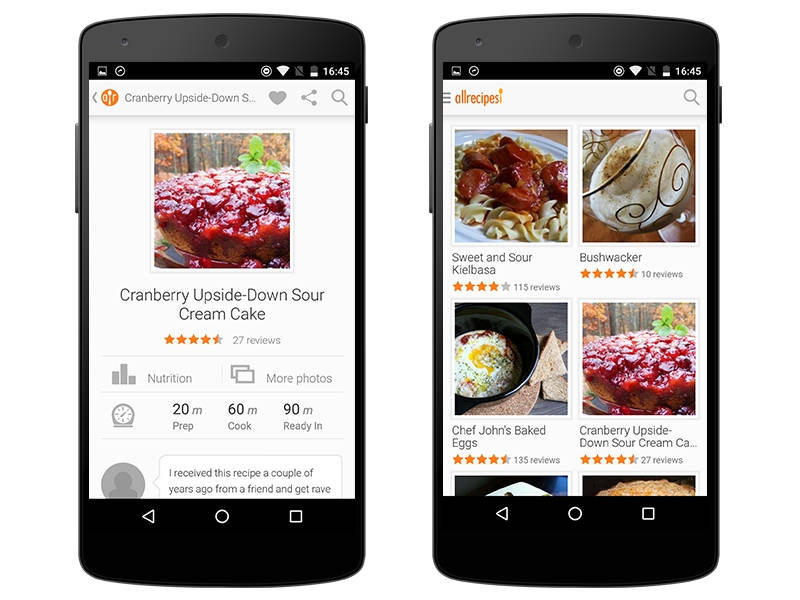 Download Allrecipes - Dinner Spinner for iOS | Allrecipes - Dinner Spinner for Android (free)
4) Green Kitchen
Green Kitchen is the best app for vegetarians. It has a ton of really great vegetarian recipes available in its beautiful interface and has everything one would want from a modern iOS 9 app. I'm always impressed with how fast cooking apps adapt new features available in the operating system. Apple Watch support is just icing on the cake.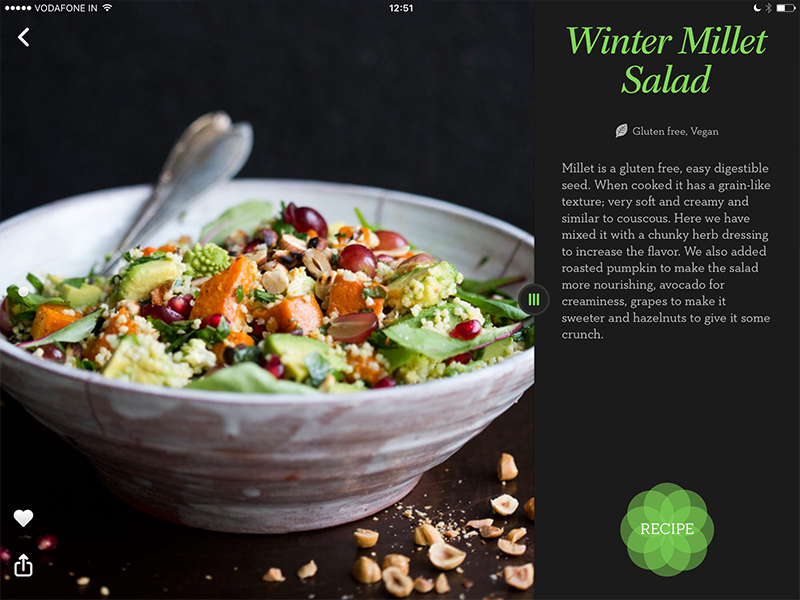 Download Green Kitchen for iOS (Rs. 300)
5) Allthecooks Recipes
Allthecooks Recipes does everything I want from a recipe app and has a few unique features. I love the categorization of recipes by difficulty and by preparation time. On Android Allthecooks Recipes looks really pleasing and this sets it apart from some of the other popular apps on the platform.
While the app may rely on an Internet connection, the shopping cart feature lets you add recipe ingredients to an offline shopping list for access later. Allthecooks Recipes is something you need to download right now. Bonus points for the stunning avocado icon.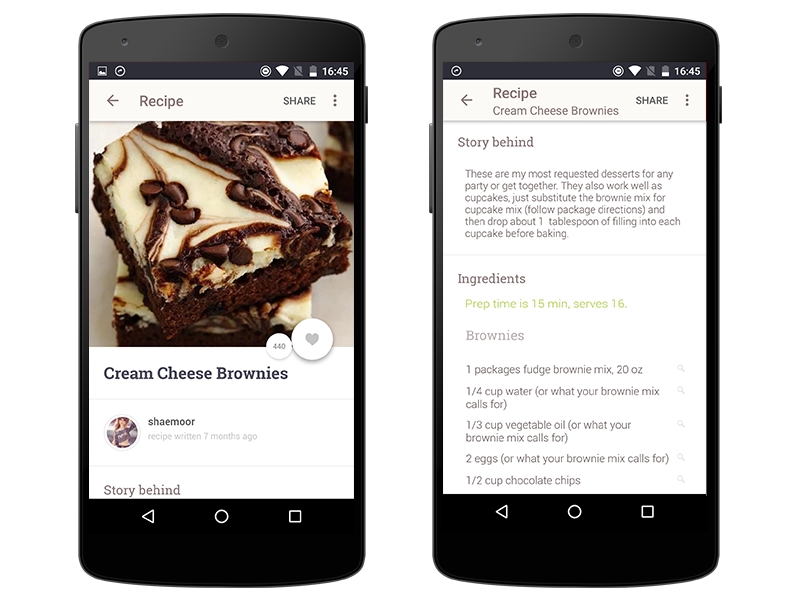 Download Allthecooks Recipes for iOS | Allthecooks Recipes for Android (free)
6) Basil Smart Recipe Manager
Basil 3 is a more toned down alternative to Paprika, with a much better interface. It doesn't have all the features Paprika has, but it supports saving recipes from any website through a Safari extension, uses great typography for recipes, and also supports split view on iPad.
If you're just looking for a good and simple recipe managing app for iOS, look no further than Basil. I love the auto tagging it does with key ingredients and the ability to suggest healthier alternatives for ingredients in a recipe.
Download Basil for iOS (Rs. 300)
7) Sara Jenkins' New Italian Pantry
Mizaplas has developed this app in conjunction with the renowned New York chef and cookbook author, Sara Jenkins. With it, you'll learn how to stock up your own pantry for the best Italian food. There are over 80 recipes here and I love how it lets you make stuff from what ingredients you already have, or uses that to tell you which ingredients you will need to buy. Every recipe looks like a stunning magazine cover with the styled text and images and there even are loads of videos available in the app.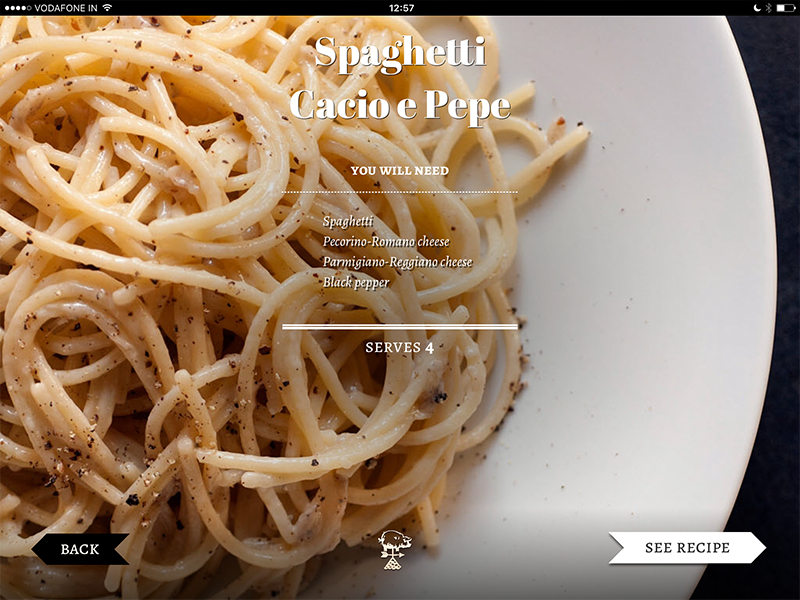 Download Sara Jenkins' New Italian Pantry (Rs. 250)
8) Joy of Cooking for iOS
Joy of Cooking is one of the most famous cookbooks and it is now available in app form. It has thousands of recipes all within the app with digital timers, quick bookmarking, and a shopping planner. My only real complaint with Joy of Cooking is the interface.
It is overwhelming and cluttered on the phone and in some areas feels cluttered even on the iPad. Being able to add notes to recipes to customise them for yourself is another great feature it has that few other recipe apps offer.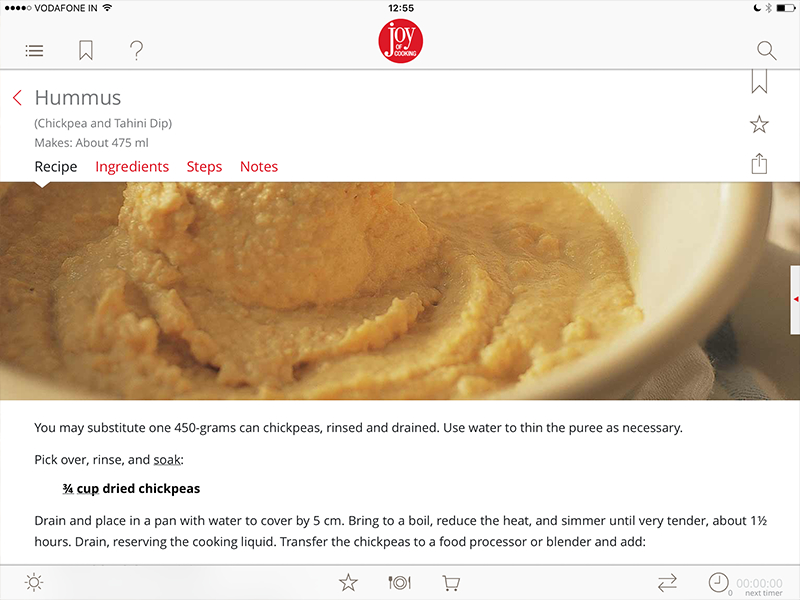 Download Joy of Cooking for iOS (Rs. 490)
9) Epicurious Recipes and Shopping List
The most well-known cooking app, Epicurious has been downloaded more than 10 million times, and keeps getting better with every update. It already has tons of recipes and the new look makes it more intuitive.
There's also Apple Watch support and recipe search from famous publications for free. The seasonal ingredient finder is a nice touch.
Download Epicurious for iOS | Epicurious for Windows Phone | Epicurious for Android (free)
10) Cook for iPad
Cook is an app that lets you create, store, and share your recipes in digital cookbooks with others using the app. You can customise everything from the font to the colours for your cookbooks. Cook makes great use of the large screen on the iPad with its interface. Give it a go if you fancy a social element with recipes and cookbooks.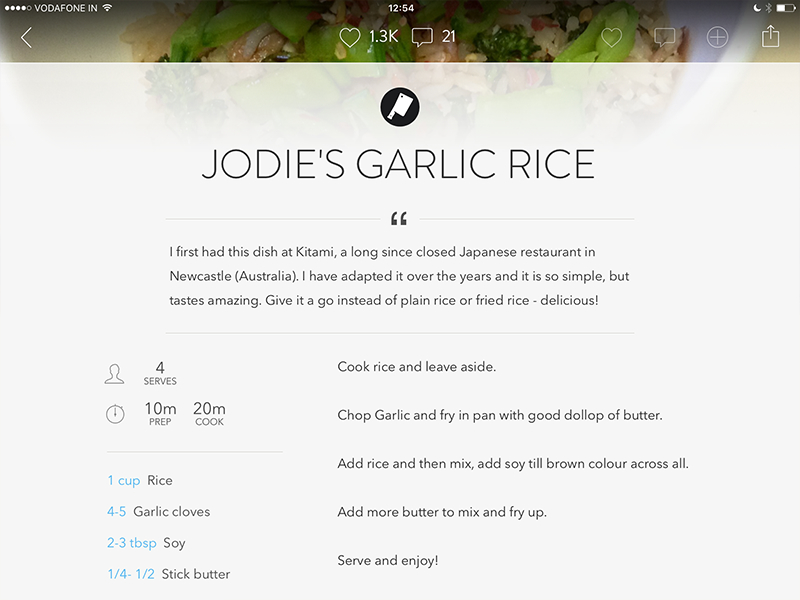 Download Cook for iPad (free)
Which cooking apps do you use at home? Tell us via the comments.
Affiliate links may be automatically generated - see our ethics statement for details.