A couple of weeks earlier, taxi and ridesharing service Uber raised ire after it was revealed the firm was tracking the personal information of customers, violating their privacy. It was disclosed that the company has a tool - referred to as God View - which allows employees to easily track the movements of individual customers, a tool that was reportedly going to be used to "investigate" journalists not seen as sympathetic to the company. The company responded to this publicly, criticising the executive in question.
It's worth noting though, that there is no mention of all employees being able to track customer movements in Uber India's privacy policy. At a time when the company is complaining about the Indian government following "antiquated" practices that make using the service "inconvenient", users should consider how much of their privacy has to be sacrificed for a little convenience.
There are of course plenty of alternatives available in India at this point - you can choose between a host of services including Olacabs, TaxiForSure (TFS) and even well-established taxi fleets like Meru which now have similar features in their mobile apps.
The companies are not very forthcoming in detailing the actual rules and policies around privacy, however. While a TaxiForSure representative initially offered to comment, further emails, calls and text messages have not been returned. With Olacabs too, we were directed only to the company's published privacy policy - all the companies do have similar terms and conditions, which make it clear that some questions about privacy are not being addressed at all.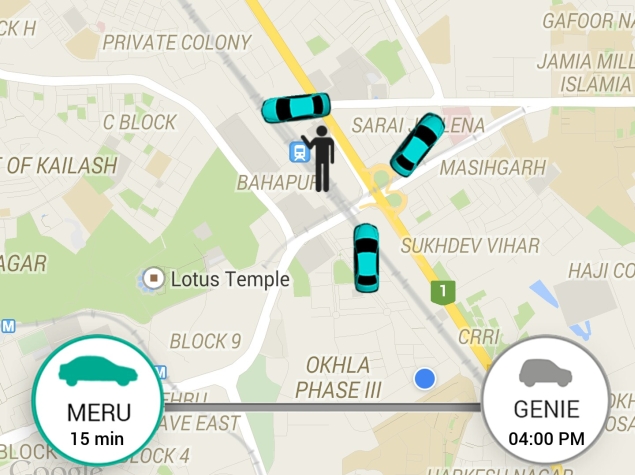 Users can see the cabs near them in these apps - and in turn, the companies can see where users are traveling in real time. On Meru's website you can see the company's privacy policy which shows that the company collects a range of information about you. It collects your name, mobile number, password and email ID while registering you as a user. During bookings, it also collects your travel details like current location, travel time, source address and destination location - only for the booking, the company says, however the same policy also states that any information might be disclosed to third parties. The only reassurance is that the information will not be sold to third parties - but the partners whom this information might be disclosed to is not revealed on the company's page either.
Unlike the other companies, Meru did respond to NDTV Gadgets' questions relating to the privacy and security of customers.
"Meru considers the safety of passengers a matter of paramount importance," says Nilesh Sangoi - Senior Vice President and Group Chief Technology Officer, Meru Cabs. "We pioneered the concept of GPS/ GPRS based cabs that are tracked and monitored 24x7 by our control room, which has a huge assurance to women passengers."
This information is available to anyone in Meru who wants to follow a customer, but Sangoi assures us that there are safeguards in place to prevent misuse. "Meru respects customer's privacy and has come up with a comprehensive policy to protect customers' interest", he says. "The customer's information is handled sensitively and access is provided to only limited people strictly and that to on a need basis."
Perhaps critically, the access of this information is also tracked, and if an employee were to be following a customer without good reason, it would be easy to spot. But there's no way for a customer to know this - and as a customer, you won't know whether your information is being tracked at all. However, Sangoi says that a dual authority process is followed by Meru so that no employee can unilaterally share consumer information.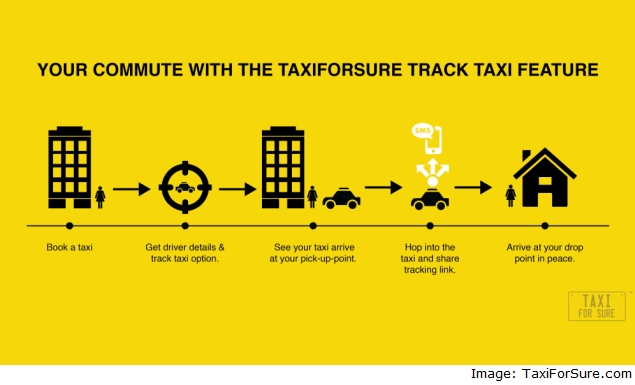 The privacy policy for both TFS and Olacabs is also similar. With TFS, for example, it mentions that in the future you will be able to opt out of certain uses of the information that the company is collecting - but if you do not provide the information it wants, then you may be unable to access certain options, offers and services. You can see the relevant portion below, with the key phrases marked in bold by us.
Generally, you will have the option not to provide the information, and in the future you will be able to "opt out" of certain uses of the information. If you choose not to provide the information we request, you can still visit the TaxiForSure.com website, but you may be unable to access certain options, offers and services.
Olacabs has similar terms, but mentions that it will collect information for internal record keeping. NDTV Gadgets asked whether this data is anonymised at all, or if anybody who works for Olacabs can just access this information, but we were first told that the company executives were travelling, and then referred to the privacy policy.
Based on these companies' policies, users shouldn't typically have any cause for concern. The companies all talk about taking the individual's privacy seriously, not sharing your private data, or using it for non-business related purposes. However, none of the companies except for Meru were willing to clarify who had access to your data, or if there is any policy in place to prevent the misuse of data.
Meru did state that access to your information is provided to employees on a need-basis, with tracking of all data that is accessed - however, like all the other companies in this field, Meru can and does disclose your information to its partners - who are not disclosed, and whose privacy policies in turn will vary wildly. Other companies might not be able to track you in real-time, but it isn't clear if these ridesharing platforms are sharing details on the localities you visit frequently, to help build demographic information, for example.
While it is likely that the companies are not in fact misusing the information or stalking their users, the fact remains that this is possible, and that all the companies need to publish detailed disclosures which address these questions. Right now, the only way to see this information is through searching each company's website. In the apps on the other hand, privacy policies are either not there at all, or buried deep below multiple menus that are hard to navigate on mobiles. These are things that need to change before the companies can shift the focus to payment methods.
Affiliate links may be automatically generated - see our ethics statement for details.