Have you ever planned to meet your friends, and wasted time walking around the same area making calls to find a landmark you can both converge on? Or worse, you have a meeting and the person says they are five minutes away, and then doesn't show up for another half hour?
Google Maps is invaluable for meetings - you can easily share a location and work out the details and routes, and if you're planning to meet a friend, while WhatsApp lets you share your location as a pin on the map. Both have shortcomings for the scenarios we described though; Google Maps isn't ideal for sharing your current location or routes, with WhatsApp you'll have to keep sharing your location as you move around.
Real time location sharing apps, that let you share details over an email link, are an interesting new development which make both these scenarios easier to deal with. The following apps are both pretty good thanks to real-time tracking and sharing via Web links, which makes it easy for people to follow along, even if they don't have these apps installed.

Glympse
Free (iOS, Android, Windows Phone)

The aptly named Glympse app lets you see where a person is, in which direction the person is moving, their current speed, and their estimated time of arrival. You can send a 'Glympse' to your contacts or request one from them.
We tested this app in New Delhi and found that it works flawlessly. We searched for various localities and landmarks in Delhi and Glympse was able to locate them all. We added a custom message (Glympse also lets you add template messages like "I'm hanging out here tonight") to our Glympse and sent it to our contacts. They got a link and were able to see our location on a map in their browser, along with estimated time of arrival.
This link is not permanent, so you don't have to worry about one-time contacts being able to track your location after the meeting. When sending a Glympse, you can set how long you want the link to be active, limited to a maximum of four hours. You can also set links to expire as soon as you reach your destination, which is another good privacy-oriented feature.
While Glympse was very useful when heading to places where the streets have no names or areas with no major landmarks, connectivity issues make it less useful than it should be. No telecom operator provides uninterrupted 3G coverage in New Delhi, where we tested this app, and the shift to 2G or no network cripples Glympse. Other than that, there was only one major problem - battery drain. Glympse tracks you real-time, so requires constant use of GPS signals. This leads to a drastic reduction in battery life. It's best to carry a portable power bank with you when using this app.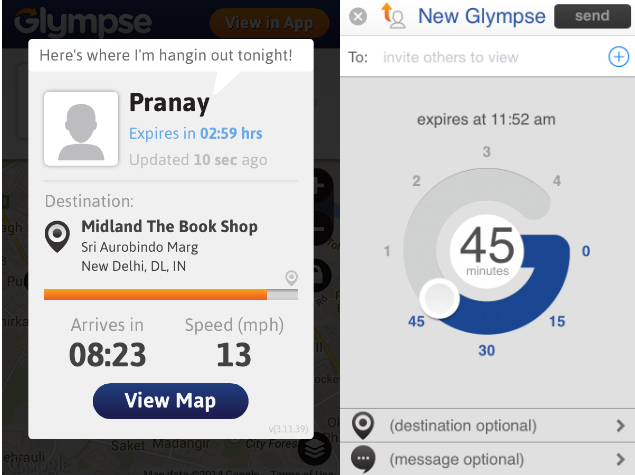 Routeshare
Free (iPhone)
Glympe is ideal for those scenarios when you're trying to meet friends - where do you meet in a large market, for example, or inside a mall? When you've got a meeting planned though, Routeshare is a great option.
Routeshare lets you set a destination, and then share your location via a link, so the people you're meeting can see where you are on the map, and how much time it will take you to reach the location.
What sets it apart from Glympse is the ability to set the frequency at which your location is updated. Unlike Glympse, the link will expire only when you manually stop sending your location. The app looks good, but unfortunately it doesn't work as well as Glympse.
The biggest problem with Routeshare is search. You can search for various locations (to set as your destination), but the database in New Delhi was quite poor. The app couldn't find localities such as Greater Kailash or Okhla, which can be quite annoying. A quick workaround is to search for New Delhi and click the result. This will take you to the map view (you can't open this view unless you click a search result). Here you can drag the pin to any location of your choice and Routeshare will mark it as your destination.
Another problem with Routeshare is that it doesn't track speed accurately. We checked the link on a browser and found that the speed was always 0 km/h even though it tracked the time to destination accurately. It's hard to explain why this problem was happening, but since it shows the location and time accurately, it is still useful.
Of course, like Glympse, Routeshare also drains the battery pretty heavily, and connectivity can of course affect the accuracy as well.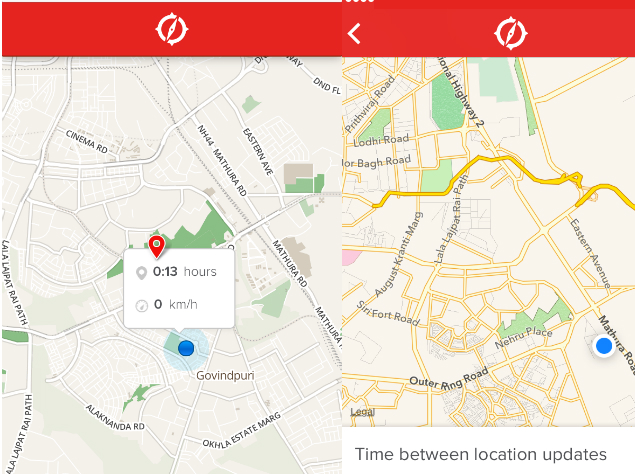 Since the two apps update the location real time, they are very useful when trying to locate someone, and they both let you share your location via email, which is a very useful feature. It means that you can share your location with anyone, in a secure manner - you don't need to add people as friends to see them, and that means that after the meeting is done and the link is dead, that person can't track your location again. It's a great balance of convenience, and security.
If you found these apps useful or if you know of other apps that do the same thing, let us know via the comments.