Taking care of your health sounds like an obvious decision, but getting the time to exercise is difficult because there are so many other things we'd rather be doing. This is one of the reasons why so many people abandon their fitness trackers rather quickly.
A recent IDC study shows that Fitbit is the largest seller of wearables in the world, shipping 4.4 million units in the second quarter of 2015. One possible reason for why this tracker is so popular, is because of its social integration - you can compare your stats with those of your friends, and this gives you a sense of competition, turning fitness into a game you share with your friends. Fitbit has other features like achievements, and it even hosts users' success stories on its website to give the push to other users to take steps to improve their lives.
All this because Fitbit and other companies recognise fitness has a social factor that encourages us to keep at it with our regular group at the gym or our running buddies. Social tools on our phones and the Internet are helping a lot of people take fitness more seriously, and stick with it too.
"Many times I turned lazy and left the gym or my regular fitness activities," says Akhilesh Tiwari, a software engineer living in Mumbai. "But doing activities in a group, sharing my Runtastic score and playing Zombies, Run became my regular addictions later on".
Fitness with groups
FitCircle is a Mumbai-based startup that wants to make group fitness fun. To do this, it arranges community based custom fitness programs, and does the same for corporate groups as well.
It creates daily challenges for workouts and nutrition, and you can log the activities from your smartphone. Mihir Gadani, FitCircle co-founder, tells NDTV Gadgets that the company's goal is to make fitness a habit for everyone.
"We believe in inculcating the ideology that fitness is not a chore or an additional activity, but is as necessary and natural as brushing our teeth," says Gadani. "The focus is on getting cues, routine and rewards right for every participant of the program. We provide them a holistic platform for nutrition and workouts."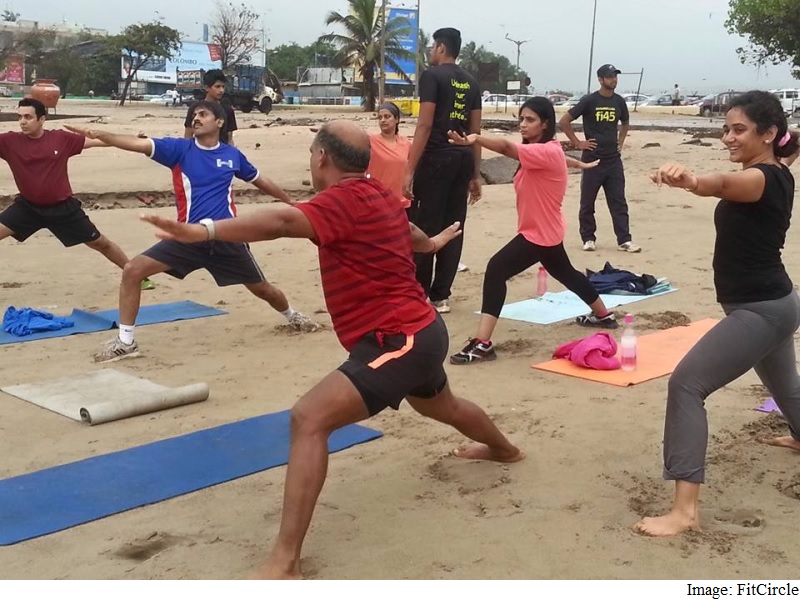 People who perform well are rewarded with gifts and vouchers. "People always feel good about themselves if their efforts are appreciated," he adds. "Apart from this, we also need provide personalised advice and stats for our users, so they can work on the areas which are beneficial for them".
Charges depend on the community program being organised, whether you want to participate in the Bootcamp sessions, and other variables, or just coaching, short workouts, and nutrition sessions. The platform is invite-only at the moment, but will be open to all by the end of October, on both Android and iOS.
Discover fitness around you
While other fitness apps are mainly concentrating on stats and numbers, Jogo aims you to get you out of your house more, to meet real people and work out with them. The app uses your location, and shows you nearby locations of gyms, fitness groups and more. The app - which will be launching in Delhi/ NCR soon - will also help you find personal trainers whom you can work out with.
"One of the main challenges for people who like fitness activities, is getting to know the fitness community around you," says Jogo co-founder Saurabh Agarwal. "We are trying to make this discovery easier with the help of Jogo"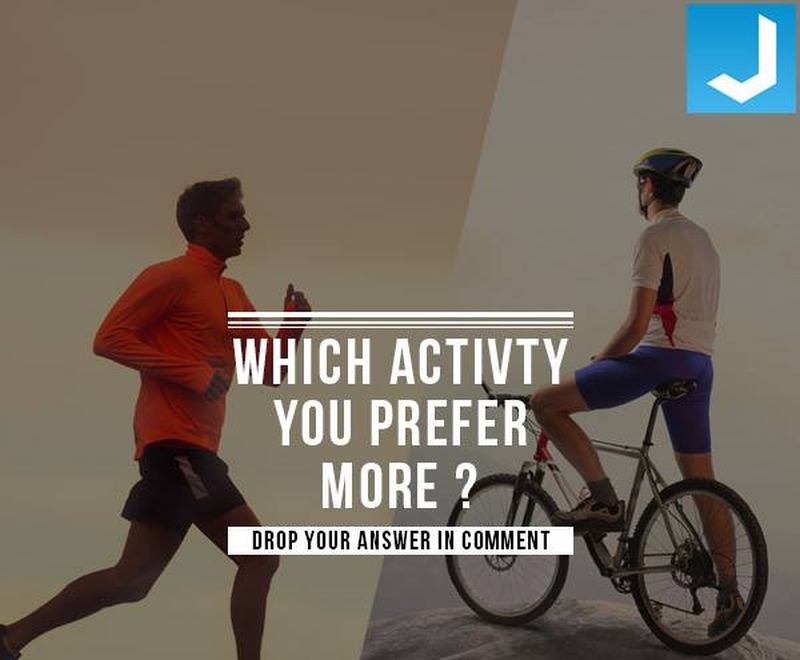 "There are a lot of cycling and running groups in Delhi, but they are not organised. You either know them or you don't," he adds. "And there are no platforms online where the users can see the upcoming activities. We are launching an Android app for people to solve that problem."
Stay fit for a cause
In case you need that extra push, the Just Move app wants to get you motivated by turning workouts into a way to support causes.
"We are currently providing an additional demonstration of support to causes, by walking for them," says founder Rahul Gupta. "One of the movements on the app is #betikeliye, to support the girl child. Users walk for this cause and sponsors donate to the NGO working on the cause, in direct proportion to steps."
The idea is that your steps go towards a good cause, but you also get to meet like-minded people through the app. Leaderboards show you how much your friends and you have walked, and lets you chat with others.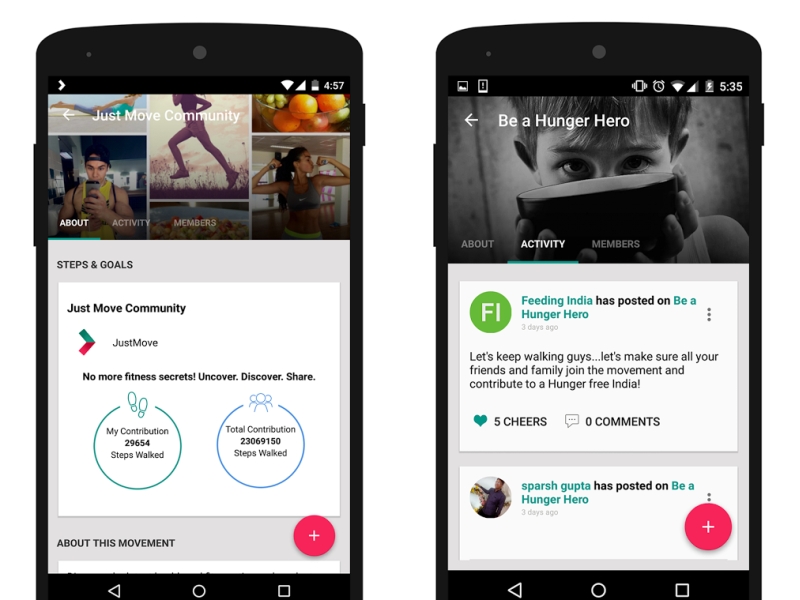 The app also includes a personal fitness buddy, a virtual coach called Kiran, who reminds you to move around and get more exercise. Aside from the virtual buddy though, you can also add friends on the network, and share tips, photos, or just chat with the community as you work to get fitter.
Or turn exercise into a multiplayer game
One of the most popular fitness apps we found is a game called Zombies, Run. It is a storytelling fitness game, in which you play a variety of different missions, where zombies are chasing you. The app tracks your speed and distance with GPS and accelerometer of the phone.
Based on that, it gives you instructions to adjust your speed and even collect bonuses, just like a video game. The game has over 200 missions included, and there is also a separate app for 5k run training.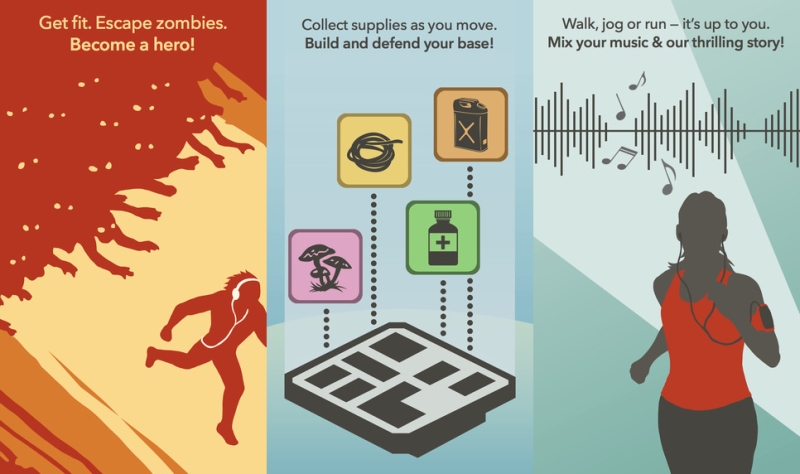 "I generally ran about 15-20 minutes on the treadmill with music on," says Mitesh Raval, a Mumbai-based Zombies, Run player. "The missions of Zombies, Run helped me increase the run time."
The game also has leaderboards, so you can see how you're doing compared to your friends, or compared to strangers if that's what you want - though the game has a user base of over a million players worldwide, so don't be disheartened if you see a lot of people way above your fitness level when you start.
These are just some of the different ways in which fitness is becoming a community activity with the use of technology. It's one of the few ways in which peer pressure can actually be good for you. What tools have you used in your health journey? Do you know of any start up which has helped you achieve your goals of shaping up? Let us know via the comments.