The music streaming industry has come a long way in a year's time in India. Last year we evaluated four contenders but this time there are three more vying for the throne. With such a large number of streaming services now in India, consumers are indeed spoilt for choice.
Since many of these offer free tiers, and as more and more people get online, the biggest loser is going to be piracy. When you can listen to any song of your choice legally for free or a nominal monthly fee, piracy suddenly becomes far less attractive. Which is the best music streaming service among these? That depends on the library of songs and the price. We searched for over 150 songs and albums (including picks from top charts and a random selection of music NDTV Gadgets staff members listen to) on each of these streaming services to find out has the most comprehensive library. We also factored in other factors like which platforms each service is available on to find the best service for listeners in India. Read on.
Apple Music
Apple Music is the newest entrant in the streaming services market and it has a few features that its competitors don't. The most important of these is Beats 1 radio, which has us completely hooked. If you like listening to FM radio then you will like Beats 1. The Internet radio station may not be a new concept, but Apple has implemented it very well.
(Also see: Everything You Need to Know About Apple Music)
Playlists are another great feature of Apple Music. It has genre-based playlists such as Indian Classical and Rock, apart from playlists dedicated to activities such as workouts and running. The curation on Apple Music is exemplary and you're sure to find what you need.
The problem with Apple Music is that it carries a little too much iTunes baggage. If you're using the service on your PC or Mac, you have to use it from iTunes (there is no Web view). That app was always slow and felt bloated, especially so on Windows. There's no reason why a music app should bog down your machine. The iOS version of the app is much better, although it still is slower than the old Music app.
(Also see: Apple Music's Beats 1 Radio: 10 Things to Know)
Apple Music's library of international music is fantastic. We found that Apple Music was always the best as it had nearly all the songs and albums that we searched for. Music from some artistes such as Taylor Swift is available only on Apple Music, which makes it our top pick. Unfortunately its collection of Indian music is severely limited. We couldn't find most of the songs that we looked for, even though you can buy them via iTunes. It appears as if Apple hasn't yet struck deals for streaming music with Indian labels. If that doesn't change soon enough, it's going to be hard to justify purchasing a subscription.
PROS: Best library of international music, excellent pricing, great playlists, Beats 1 radio
CONS: Extremely limited library of Indian music, resource hogging app on PC and Mac, no Web view
PRICE: Three-month free trial, then Rs. 120 per month for one person and Rs. 190 per month for up to six people
AVAILABLE ON: Windows, Mac, iOS, Android (coming soon)
Wynk
Airtel's Wynk was our favourite music streaming app last year and it's good to see that the app still has all the features we loved. Wynk's music curation is still as good as it was a year ago and the app has added support for 320kbps files.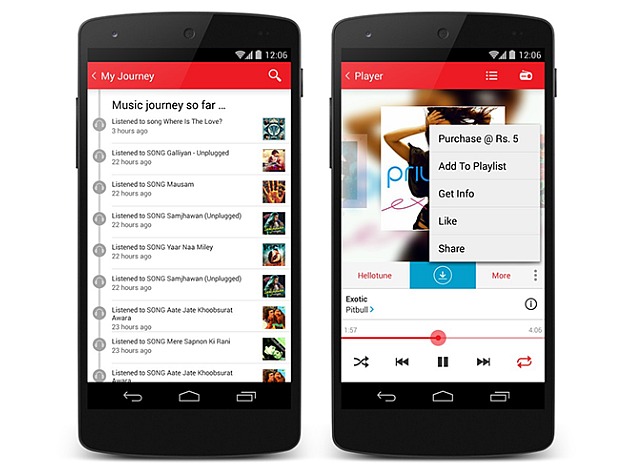 Wynk's home page still remains among our favourite features of the app. It makes it easy to find music in case you're not sure what you want to listen to. It lists the latest hits in Indian and international music apart from the top charts across genres, and even some nice retro music playlists. This should be good enough for most people and for everyone else - there's the search bar.
If you are into Indian music, then Wynk's library is among the best. We searched for around 150 top songs and albums based on their popularity and the music NDTV Gadgets staff members like. Wynk had almost all the Indian music we searched for (see tables below). It also has a large library of international music and our searches showed us that it should be good enough for most people.
Wynk's pricing structure is still as complicated as it was last year. One of the problems is that Airtel customers get some benefits, which creates a separate pricing structure for all those who subscribe to other telecom providers. Non-Airtel users can only stream 100 songs for free per month, and have to pay a higher price (Rs 99 per month) to download songs. Airtel users can stream unlimited songs for free and need to pay just Rs. 29 per month to download music. There are more tiers that you can check on Wynk's FAQ page.
PROS: Large music library, great curation, good value for money
CONS: No Web view, complicated pricing structure, hidden FUP
PRICE: Free streaming (up to 100 songs per month); Rs. 60 per month (iOS), Rs. 99 per month (Android - Rs. 29 per month for Airtel subscribers), Rs. 129 per month (Android, Airtel only, no data charges for first 500 songs)
AVAILABLE ON: iOS, Android, Mobile Web
Gaana
Gaana is among the most popular streaming services in India. As we noted last year, Gaana's vibrant interface will appeal to many. It uses a dark theme that we like and is generally a well-designed service. It is available on a wide range of devices including BlackBerry and Windows Phone. This gives it an edge over rivals.

Gaana may not have the curation of its rivals, but its library is good enough to appeal to most people. The only disappointment with Gaana's library was when we couldn't find some of the top 20 Bollywood songs from the past two weeks. Its collection is not the widest but the service's presence on multiple platforms makes up for this. We noticed that the search function on its Web view didn't always work well, but that wasn't a problem on its apps.
Gaana has a social layer in the app where you can see what friends are listening to. We aren't big fans of this, but that doesn't mean everyone will dislike it. Gaana's pricing is competitive with one subscription being valid for up to five devices. The price is Rs. 120 per month and allows for unlimited downloads of songs with a bitrate of up to 320kbps. There is an ad-supported free tier that doesn't allow downloads.
PROS: Available on many platforms, attractive pricing
CONS: Library isn't the best, social layer could be done away with
PRICE: Rs. 120 per month (up to five devices)
AVAILABLE ON: Android, iOS, Web, Mobile Web, Windows Phone, BlackBerry 10, BlackBerry, Java
Saavn
Saavn was one of the first music streaming services to be launched in India and still remains one of those with a good interface. We like its apps but like last year, we find its curation unsatisfactory. If this app had better playlists, it'd make it much easier for people to find new music.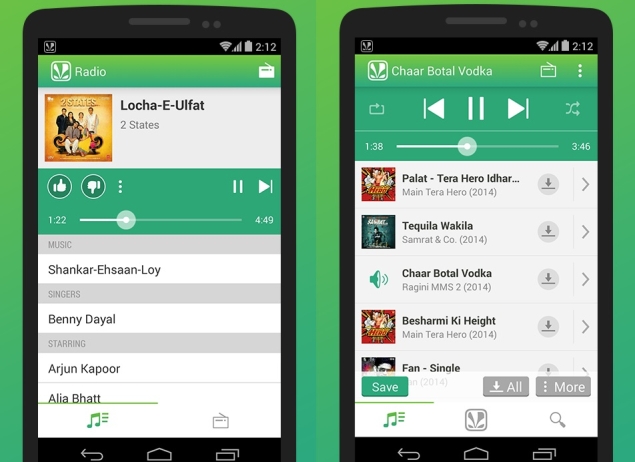 However if you know the songs you're looking for, then Saavn won't disappoint you for the most part. We searched for over 150 songs on Saavn and found its library to be on par with that of Wynk. Its excellent collection of Indian and international music makes it an attractive option for most people. Saavn has songs in many languages and it keeps these in separate sections. You can quickly select the language from the menu at the top and start browsing through the library. This is where better curation would benefit the app. Saavn's interface is great and the search feature works flawlessly.
Saavn's pricing isn't as attractive as its competitors. It has an India-only Lite plan that lets you download up to 3GB of songs on one device for Rs. 120. If you start downloading high-quality 320kbps songs, then you will hit the download limit rather quickly. The pro plan offers unlimited downloads on up to five devices for Rs. 250 per month.
PROS: Great interface, large library
CONS: Slightly expensive, curation could be better
PRICE: Rs. 120 per month (one device, up to 3GB downloads); Rs. 250 per month (up to five devices, unlimited downloads)
AVAILABLE ON: Android, iOS, Web
Rdio
Rdio had acquired Indian music streaming service Dhingana and that helped boost its library of Indian music. Soon after that move, the company launched its music streaming service in India. Rdio's apps and Web view are excellent and will appeal to those who value good design.
We put Rdio's library to the test through the same rigorous 150-song search as others and found that it shines when it comes to international music (its library is better than Indian streaming services) and falters a bit when it comes to Indian music. If your listening taste is largely international with a few Indian tracks, then Rdio would be a good choice for you.
Rdio's free tier is a bit restrictive as it has ads and only allows you to skip a limited number of tracks. You can either subscribe to Rdio Select at Rs. 60 per month that lets you download 25 songs or Rdio Unlimited at Rs. 120 per month with no download limits.
PROS: Excellent library for international music, great design
CONS: Indian music collection isn't as good
PRICE: Free (with ads, limited skipping of songs); Rs. 60 per month (up to 25 song downloads); Rs. 120 per month (unlimited downloads)
AVAILABLE ON: Android, iOS, Web, Windows Phone
Guvera Music
Guvera is a relatively unknown player in the Indian music streaming space, though it officially entered the country in November last year. While rivals have spent huge sums on advertising, Guvera has kept a low profile. That is why we were surprised to find out that its library is quite good.
If you just want to try the service, you'll have to endure a frustrating, ad-cluttered UI. This is especially frustrating on mobile apps, as no one wants a video ad loading every time you open the app or switch between menus. There is an option to close the ad, but it would be much better if the ad didn't keep loading all the time.
If that isn't a problem, then Guvera's library of music will surprise you. Its Indian music library is as good as any of its rivals and the same can be said about its collection of international music. We liked its Web view more than its apps, and we'd recommend it if you're planning on streaming music on a browser. It's a tad expensive when compared to the competition.
PROS: Neat Web view, large library
CONS: Way too many ads on the free tier, slightly more expensive
PRICE: Free (with ads); Rs. 199 per month (Web); Rs. 250 per month (iOS); Android (Rs. 199 per month)
AVAILABLE ON: Android, iOS, Web
Hungama
We were not impressed with Hungama last year, but things seems to have changed since then at least as far as the UI of the Android app is concerned. The app now features a brand new look and the company says the same is coming to iOS soon. We hope the Web UI gets the same treatment as well, as it too is need of an overhaul. The Hungama app is available in five languages including English and Hindi, which gives it an advantage over rivals.

The major problem with Hungama's service is inconsistent search results. The iOS app wouldn't show us many of the songs and albums that would appear on the Android app. Even on Android, at times the search results varied across devices on the same network, though this behaviour itself isn't very consistent.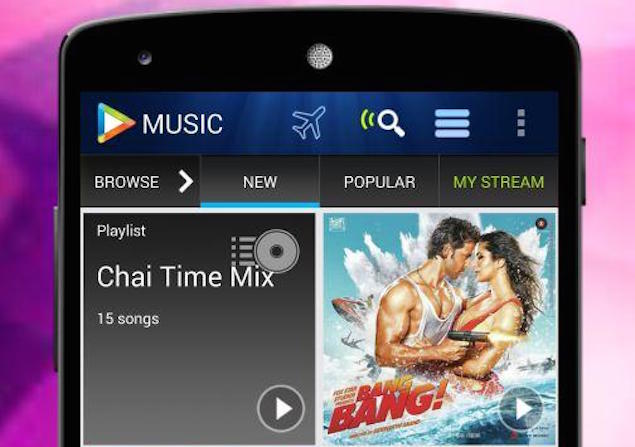 The good thing about Hungama is its fairly large collection of Indian music. If you don't listen to international tracks, Hungama could be a decent option but Wynk, Gaana and Saavn have a better collection of international songs. Hungama's collection of international music seems very limited in comparison.
Hungama offers unlimited downloads at Rs. 120 per month, which is on par with most of its rivals. However, the service needs to improve its design and international catalog if it hopes to become the top pick in the future.
Editor's note: The Hungama section has been updated since publishing to include references to the refreshed Android app.

PROS: Available on many platforms, good Indian music library, available in 5 languages

CONS: Poor design on iOS and Web, limited international music collection, inconsistent search results

PRICE: Free (with ads); Rs. 120 per month (unlimited downloads)
AVAILABLE ON: Android, iOS, Windows Phone, BlackBerry, Web
Verdict
Unlike last year, there is no clear winner thanks to stiff competition. We feel that Wynk's combination of a fairly large library across Indian and international music and well-curated playlists, coupled with its low price (Rs. 60 to Rs. 99 per month) make it the most attractive option for Indians. The only reason you'd want to use another service is if you listen to music on more than one device, in which case Gaana offers the best value for money (Rs. 120 per month for up to five devices) and is available across platforms.
Rdio, Saavn and Guvera are all strong contenders and you can't go wrong with any of these services. If you don't listen to Indian music, then it's hard to beat the sheer value of Apple Music's family plan (Rs. 190 per month for up to six people). However, perhaps it's best to wait until Apple adds more Indian songs to its library. Hungama is the only one playing catch up thanks to its clunky interface.
Features compared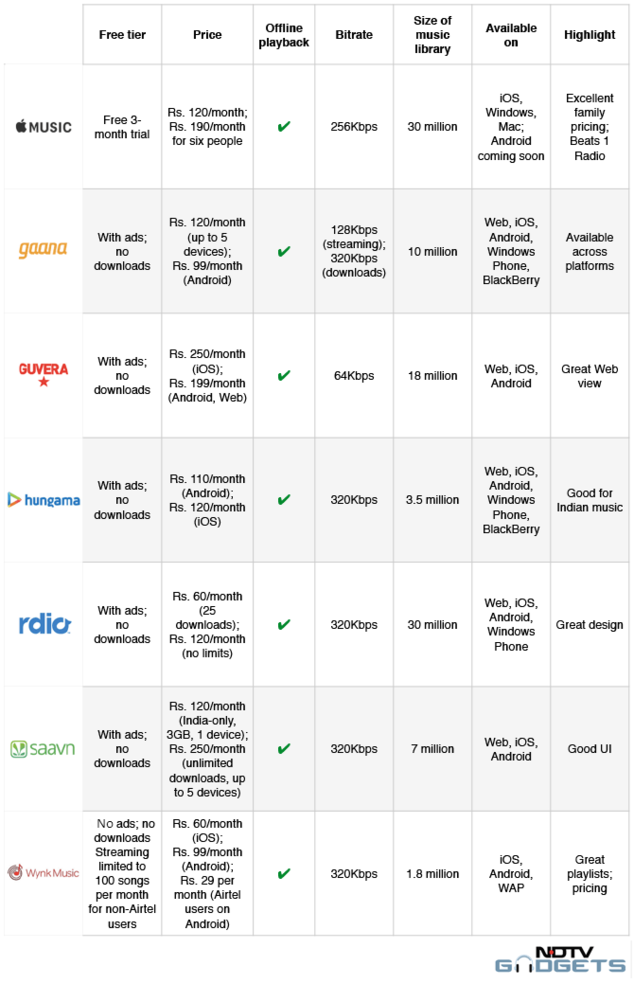 Appendix
Availability of various tracks/ albums in each service. Click to see what we checked for across various music genres:
Top international hits
Top international music albums
Bestselling international albums
Recent Bollywood hits
Random selection of famous Hindi songs
NDTV Gadgets' staff picks favourite albums