If you've ever tried searching for apps on the iOS App Store, you might have hit a wall. The front page is excellent for helping you discover awesome apps. Combine that with the top charts, most people will have no trouble finding the hottest apps and games. But if you try searching for terms such as "learning games", or "Twitter", you are likely to encounter only a few useful apps, along with a whole bunch of apps that have nothing to do with the search keywords.
That is why you might want to check out third-party App Store search engines. We've found some great options in the past, and our new favourite is AppApp. This is a new App Store search engine that has some great filters to help you find the apps and games you need. AppApp is much faster than any other search engine we've tried because it shows live results as you type your search query. When you open the website, just start typing in the search box and AppApp will start showing results.
Another nice feature is its support for search filters. To the right of search results, you'll see filters for ratings, minimum and maximum price, in-app purchases, among others. These help you narrow down the search easily. For instance, if you want to search for racing games rated a minimum of 4 stars with no in-app purchases, AppApp is the search engine you want to be using. You can also zero in on any app based on its release date, supported devices, and app categories.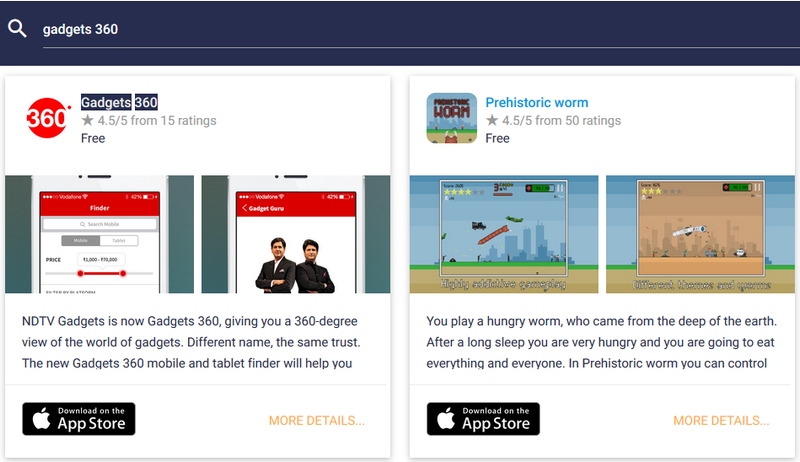 Although AppApp does a lot of things right, there are a few areas in which it falls short. AppApp currently supports just five App Store regions - India, US, UK, Canada, and Australia. Indian App Store support is useful if you want to search for apps priced at Rs. 10 or Rs. 30.

(Also see: Why Paid iOS Apps at Rs. 10 Is Great News for Consumers, Developers, and Apple)

If you want to find apps exclusive to other regions or browse top charts for these regions, you will have to look elsewhere. It doesn't let you search for Mac apps or other content available on iTunes. The service doesn't index apps that haven't received any ratings yet, or apps that are haven't been updated for two years. However, if AppApp isn't what you need, there are some other options too:
Fnd
While the official website serves for browsing through the App Store, if you're trying to find something specific, then Fnd is a much better option. It has a much more robust search, and it lets you choose the country you want results from as well.

Vionza
If you're looking for a specific app or want to browse the store, then these two methods are good enough. If you want fine control over the search results, then you need to use Vionza. For instance, if you want to only see apps priced between $0.99 and $3.99, or apps rated more than 4 stars, then Vionza is the best choice.Read more here.