Every week we curate the best discounts on apps and games across platforms in this column. This week, we also found a great deal on a bunch of comics you must read. Humble Bundle is running a special on Image Comics, and the publisher is famous some really diverse and compelling titles, such as Jeff Smith's Bone, Kurt Busiek's Astro City, and Robert Kirkman's The Walking Dead - the bundle features some great comics that make it a must-buy.
Some really good third-party keyboards are also on sale. Sadly, the deals weren't for any of our favourite new keyboards, but these are also pretty good picks.
(Also see: How to Change Keyboard in iOS 8)
There are some great deals on PC games as well, from moral puzzlers to action packed adventure games. We found some nice apps that have gotten discounted too, so there's something for everyone.
Papers, Please
A game that makes you play as an immigration officer posted at a tense border outpost doesn't sound like a lot of fun. But it is. Papers, Please makes you enjoy scanning documents with intense gameplay and tough moral choices. It has 20 different endings, which means a lot of replay value. The PC version of this game is available at a 70 percent discount until Thursday morning. Grab it fast.
Humble Store for Windows and Steam (Rs. 190, usually Rs. 620)
iOS (iPad only) (Rs. 490)
Other great deals
Humble Image Comics Bundle 2 featuring Image Expo 2015 Preview Book, Alex + Ada Vol. 1 (#1-5), Deadly Class Vol. 1 (#1-6), C.O.W.L. Vol. 1 (#1-5), Elephantmen 2260 Book One (#51-55), Minimum Wage Vol. 1 (#1-6), God Hates Astronauts Vol. 1, Genius (#1-5), Satellite Sam Vol. 1 (#1-5), The Manhattan Projects Book One (#1-10), The Wicked + The Divine Vol. 1 (#1-5), The Fuse Vol. 1 (#1-6), Velvet Vol. 1 (#1-5), Sex Criminals Vol. 1 (#1-5), Wytches #1, The Walking Dead Vol. 22: A New Beginning (#127-132), The Fade Out #1, The Walking Dead Compendium One (#1-48), East of West: The World, and Saga Book One (#1-18). (Rs. 1,080, usually Rs. 17,550)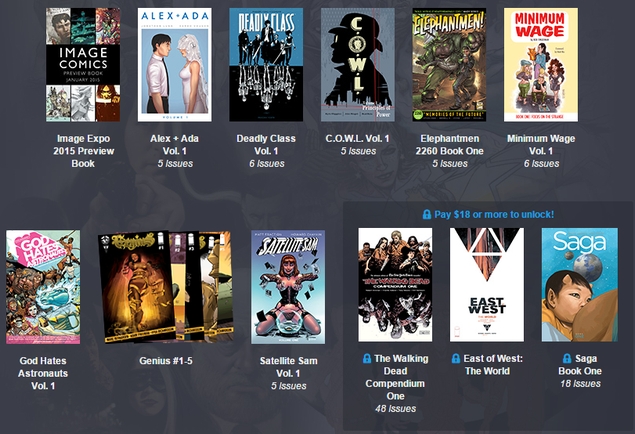 DynamicNotifications Unlocker for Android for (roughly Rs. 60, usually Rs. 120)
Nidhogg via Steam (Rs. 232, usually Rs. 930)
Assassin's Creed Unity via Steam (Rs. 2,492, usually Rs. 3,720) for international buyers. Available for Rs. 1,799 in India via Origin
Mujo for iOS (Free, usually Rs. 120)
Translate Keyboard Pro for iOS (Free, usually Rs. 120)
TextExpander 3+ for iOS (Rs. 60, usually Rs. 120)
Fast Burst Camera for Android (roughly Rs. 100, usually Rs. 250)
Affiliate links may be automatically generated - see our ethics statement for details.